Enamored violins
ARTISTS
DUO VIVO
Roxanne Sicard and Richard Zheng, violins
Experience the virtuosity and romanticism of a unique violin duo and discover the most important works of the repertoire for two violins. Roxanne Sicard and Richard Zheng invite you to join them on a journey through the 18th and 19th centuries, featuring works by Leclair, Kreisler, and Prokofiev. Witness a unique connection between two passionate artists who blend music and emotion!
A FIRST LOOK AT THE REPERTOIRE*
S. PROKOFIEV (1891-1953)
Sonata for 2 violins, Op. 56
II. Allegro
J.-M. LECLAIR (1697-1764)
Sonata for 2 violins, Op. 3, No. 2 in A major
I. Allegro
H. ZHANHAO (born in 1933) et C. GANG (born in 1935)
Concerto for violin "The butterfly lovers" (arr. Duo Vivo)
I. Adagio cantabile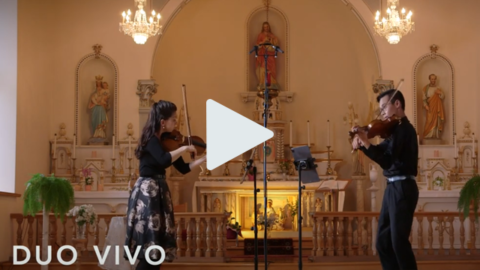 BIOGRAPHY
DUO VIVO
Roxanne Sicard and Richard Zheng, violins
Duo Vivo was established in 2020 as a result of Roxanne Sicard and Richard Zheng's desire to explore new artistic ideas. Their goal? To share their love of music by creating unique experiences. Both graduates of the Conservatoire de Musique de Montréal, where they first met, the two violinists share a great connection on stage as well as in their daily lives.
They have given performances for Orford Musique, La Scena Musicale, Opus 130 and Ensemble Vox Luminosa. As part of their commitment to supporting young musicians, Duo Vivo organized the first edition of Camp de violon à la maison, a week of online courses and workshops. The following summer, they were invited as artists-in-residence at the Olympic Strings Workshops in Port Angeles. In the fall of 2021, they held their first ensemble music workshop at the Musée d'art de Joliette.
Roxanne and Richard play beautiful 18th century Italian violins, a Carlo Antonio Testore 1741 and a Lorenzo Storioni 1780, both courtesy of Canimex Inc. in Drummondville, Quebec, Canada.
In the Western musical tradition, the origins of the duet date back to the 9th century, when a second voice was added to liturgical chant, forming the first expressions of polyphony, which then evolved throughout the Middle Ages. With the development of instrumental music in the Renaissance, two instruments were often combined under names as diverse as duets, sonatas, suites, or fantasias. Flutes, viols, and violins were particularly prominent in these settings. The Baroque period (1600–1750) saw a large number of works for duets, and their popularity continued into the Classical and Romantic eras. There were a great many violin duets composed in France in the early 1800s by the likes of Spohr, Kreutzer, Pleyel, and Rode. Although the duet has become less common in the major repertoire from the 20th century onwards, it has remained a highly spontaneous and instructive form of expression. In fact, this type of ensemble has the advantage of being easy to arrange: two friends performing together or a teacher playing with his or her pupil are all opportunities to learn while developing the listening skills, complicity, and musical personality that are essential elements of any musician's skill set.
Henryk Wienawski (1835–1880), a renowned Polish violinist in his day, was a man of many achievements: receiving first prize for violin at the Paris Conservatory at just 11 years of age, he went on to tour the world, became concertmaster to the tsar of Russia, taught at the St. Petersburg Conservatory, and had no less than Anton Rubinstein as a playing partner. His talents as a composer and teacher are revealed in his Études-Caprices for Two Violins, Op. 18, of which the two featured in this concert are as much opposed in tempo as in energy.
Jean-Marie Leclair (1697–1764) combined two interrelated arts, dance and music, to create a new technique for playing the violin. After launching his career as a ballet master in Turin, he returned to Paris, where he joined the court of Louis XV as a musician, composing numerous works—mainly sonatas and concertos—for his instrument. His Sonata for Two Violins, Op. 3 combines purity of sound and elegance, and it's easy to imagine the dance steps that inspired the musical accents in the final movement. Jean-Marie Leclair played a Stradivarius that is now in the hands of Italian violinist and conductor Guido Rimonda!
Joseph Bologne, Chevalier de Saint-Georges (1745–1799) is one of the most interesting 18th-century violinists. Born on a plantation in Martinique, this son of a French colonist and an African slave arrived in France as a teenager and trained as a fencer and musician. At the age of 28, he played his own breathtakingly virtuosic violin concertos, then became musical director of several ensembles; he even commissioned Haydn's famous Paris symphonies! As with many works by this eminent musician, Sonata No. 3, taken from the Six Sonatas for Two Violins, is full of wit and virtuosity, spans all the instrument's registers, and gives the illusion of having more than two violins on stage!
Reinhold Glière (1875–1956), firmly rooted in the great Russian musical tradition, was a talented violinist and a versatile composer: chamber music, symphonies, symphonic poems and concertos, ballets, and operas—he influenced all the different musical genres of his time, while also mentoring a remarkable new generation of composers (Prokofiev, Khatchaturian). Full of ardour and mystery, the three Duos for Two Violins presented here feature a variety of writing styles, from melodic to rhythmic, from homorhythmic to question and answer.
Fritz Kreisler (1875–1962) entered the Vienna Conservatory at the age of seven, obtained a gold medal, and went on to win first prize at the Paris Conservatory at the age of twelve. Feeling that he could further his education, he studied art and medicine, then returned to his first love, the violin! He toured the United States for the first time at the age of 14, then settled there permanently in 1939 after a busy career in Austria, Germany, and France. As a composer, he left behind mainly salon music—short virtuoso works that linger in the mind—including the Alt-Wiener Tanzweisen, three graceful and expressive pieces on the theme of love.
Sergei Prokofiev (1891–1953) was one of the finest musical talents of the 20th century. He delved into all genres to enrich them with new masterpieces; and even when he devoted himself to a violin duet, he transformed the sound material to an unparalleled degree. His genius as a colourist and composer is evident in each of the movements of this Sonata for Two Violins in C major, Op. 56. After a meditative but highly expressive first movement emerges a section that bears his signature, a sort of traditional dance transformed into a vivacious, cutting-edge musical romp. As a dreamlike transition, the third movement briefly immerses us in a reverie featuring richly sonorous three-voice passages. The fourth movement, fierce and grandiose, sweeps us away with its breathless rhythms, its ever more insistent accents, its dancing spirit, and its dazzling finale. A true masterpiece where every second is a treat to be savoured.
Chen Gang (b. 1935) and He Zhanhao (b. 1933) are two contemporary Chinese composers who incorporate elements of Chinese traditional music into their works; their Butterfly Lovers' Violin Concerto, a rare case of co-composition, is a particularly notable example. Incursions of traditional melodies and elements from Chinese idioms abound within a predominantly Western tonal framework and colour palette. Duo Vivo has chosen to arrange this work for two violins, an arduous task, but one that is essential to the promotion and discovery of a repertoire that deserves our full attention.
Aleksey Igudesman (b. 1973) is best known for his duo Igudesman & Joo, which presents classical repertoire in performances combining humour, classical music, and pop culture, inviting the greatest performers of our time to take part in their concerts. He has also published a number of violin duets that offer a foray into Klezmer, Celtic, Latin, and Asian music. His percussive and incisive Tango Sin Nombre establishes a lively, complicit dialogue between the two musicians.
Helmut Lipsky (b. 1953), who settled in Montreal in 1980, has developed a range of styles over the course of his career, from the classical tradition to jazz improvisation and the popular and traditional music of many cultures. A versatile composer and dedicated teacher, he puts his knowledge to use in the complicity between the two violins in his piece Fiesta!, where cooperation is necessary to build a syncopated structure for two voices that is sure to get the audience moving and end the evening on a high note!
*JM Canada reserves the right to modify the repertoire without prior notice.