The Choquette-Symcox Award is the joint initiative of two great music lovers: Fernand Choquette and Peter Symcox.
Created in 2010, this annual prize aims to support the talent and virtuosity of a young Quebec musician in his or her career development. It is accompanied by a $5,000 excellence scholarship.
Each year, the winner is chosen at the discretion of the JM Canada Foundation and Jeunesses Musicales Canada.
Support the Choquette-Symcox Award:
2023 Recipients: Yu Kai Sun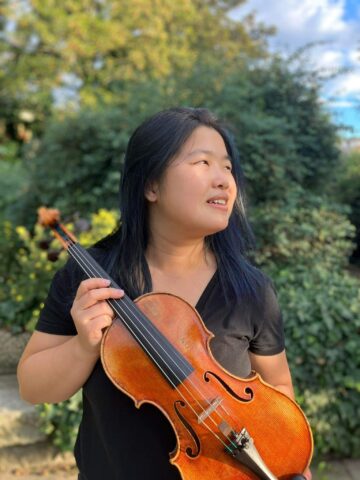 Recipient of the JM Canada Foundation's Artist Assistance Fund (AIDA Fund), Quebec violinist Yu Kai Sun has performed in numerous festivals and concerts across Canada, the United States, Europe and Asia. She has recently been named associate concertmaster of the Pacific Music Festival Orchestra in 2022 and concertmaster of the Schleswig-Holstein Musik Festival Orchestra in 2021.
With these two orchestras, she has had the opportunity to perform at Suntory Hall in Tokyo and the Elbphilharmonie in Hamburg. A winner of the Glenn Gould School Concerto Competition, Yu Kai recently performed Shostakovich's Violin Concerto No.1 with the Royal Conservatory Orchestra. In addition, she has been a soloist with the Oakville Chamber Orchestra, the North York Concert Orchestra, the York Symphony Orchestra, the Mississauga Symphony Orchestra and the Vancouver Metropolitan Orchestra.
Born in China, Yu Kai discovered the violin at the age of 8. From 2013 to 2017, completing a Diploma of Specialized Studies at the age of 18, she studied at the Conservatoire de musique de Montréal in the class of Helmut Lipsky. She then completed a Bachelor of Music degree at the Glenn Gould School of the Royal Conservatory of Music under the teaching of Victor Danchenko. She is currently pursuing a Master of Music degree at the Colburn School with Martin Beaver.
Yu Kai plays a 1917 Carl Becker violin on loan from The Colburn Collection and a Benoit Rolland bow on loan from violinist Anne Akiko Meyers through The Colburn School.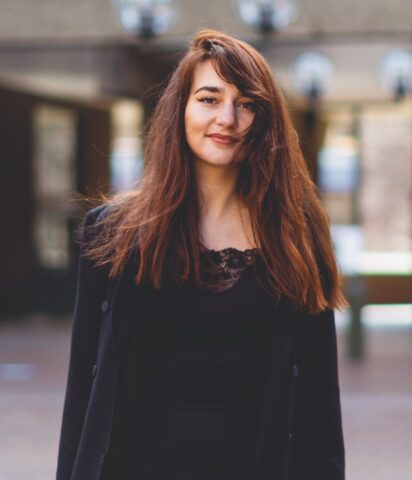 A curious and innovative artist, pianist Élisabeth Pion (1996) is internationally active as a soloist, chamber musician, and artistic collaborator. Based in London, Élisabeth is currently finishing the Artist Diploma with Ronan O'Hora at the Guildhall School of Music & Drama, where she is a full scholarship holder since 2018. She is also part of the Imogen Cooper Trust, and has previously worked in Canada with Francine Lacroix, Suzanne Goyette and André Laplante.
In 2018, Élisabeth was named in the CBC Palmares 30 Hot Canadian Classical Musicians under 30. She made her BBC Radio 3 broadcast debut in 2019, and her Wigmore Hall solo recital debut in 2021. She has also presented a collaborative recital with mezzo-soprano Alexandra Achillea Pouta at Carnegie Hall's Weill Recital Hall in January 2022. She has previously been invited as a soloist with the Ensemble Volte, the Orchestre classique de Montreal, the Orchestre symphonique de Laval & Longueuil, the Victoria Symphony, and Arion Orchestre Baroque.
Élisabeth places great value on approaching music from a holistic perspective. Her deep interests in literature, writing and Tai Chi nurture her musical practice. She is the Co-artistic Director of the Festival Unisson, and the pianist of the De Beauvoir Piano Trio, which has recently worked in IMS Prussia Cove with Thomas Adès.
Élisabeth is grateful for the support of the Guildhall School of Music and Drama, the Sylva Gelber Music Foundation, the Fondation Jeunesses Musicales Canada, The Musicians' Company Carnwath Scholarship, Help Musicians UK, and Talent Unlimited UK.
2021 : Marie Nadeau-Tremblay, violin and Dominique Beauséjour-Ostiguy, cello
2019 : Marcel d'Entremont, tenor
2018 : Olivier Bergeron, baritone
2017 : Magali Simard-Galdès, soprano
2016 : Charles Richard-Hamelin, piano
2015 : Jean-Philippe Fortier-Lazure, tenor
2014 : Daniel Clarke-Bouchard, piano
2013 : Stéphane Tétreault, cello
2012 : Marie-Eve Munger, soprano
2011 : Philippe Sly, baritone-bass
2010 : Tomislav Lavoie, bass
Beyond his passions for theater and poetry, Fernand Choquette also had a great interest in classical music. He joined the Canadian Broadcasting Corporation in 1955 as a producer-director, and his career remains one of the most accomplished to this day.
A frequent adjudicator at drama festivals, director, set designer and critic Peter Symcox (1925-2022) has written numerous articles for newspapers and periodicals such as The Montreal Star and Opera Canada. Shortly after his arrival in Montreal in 1953, he was hired as a set designer for CBC television and became a music producer.