The Jeunesses Musicales Canada Foundation is looking for violinists and a cellist who could benefit from an instrument loan!
Did you know that the Jeunesses Musicales Canada Foundation has a musical instrument bank? It includes three magnificent instruments made by Quebec luthiers and bow makers: two violins, a cello and the three corresponding bows.
Some fifteen artists have had the opportunity to benefit from the instruments in the Foundation's bank, including Ana Drobac, Ewald Cheung, Yu Kai Sun, Richard Zhen, Frédéric Pouliot and many others.
The Jeunesses Musicales Canada Foundation's stringed instrument bank was created in 2008 to support young Quebec musicians in their pursuit of higher education by giving them the chance to use a high-quality instrument and bow.
Deposit closed, next dates to come
Violin
Wibeaux Violin 
Made in Montreal in 2008
Model after J. Guarneri del Gesù : "Kemp" 1738. Back in two pieces, sides and head in flamed maple. Deep, medium and slightly irregular waves.
Two-piece top with medium and regular grain. Oil varnish of orange brown color, with antique patina.
•  Length of the case : 35,2 cm
•  Top width : 16,4 cm
•  Width in the center : 11,1 cm
•  Lower width: 20.4 cm
Value of the instrument $18,000
Bow
Violin bow signed "Emmanuel Bégin"
Made in 2008
Mammoth ivory head and silver fittings – ebony frog and abalone mother-of-pearl cover.
•  Length of 73 cm
•  Weight of 62 g – with the hairs
Value of the bow: $2,000
Violin
Antonio Scarlatti Violin 
The back is made of two pieces of medium flamed maple. The same is true for the headstock and sides. The top is made of two pieces of fine pored fir.
• Length of the case : 35.4 cm
• Top width: 16.8 cm
• Width at the "C" : 11.4 cm
• Width of the bottom: 20.8 cm
Value of the instrument: $1,500
Bow
Violin bow signed "Marco Raposo"
The stick is made of pernambuco and the frog is made of ebony and has a Parisian eye. Button with two ferrules and bone plate.
Value of the bow: $670
Available in January 2024
Cello
Cello inspired by Matteo Goffriller
Made in 2006
Back made of two pieces of maple with large waves. Head and sides in medium flamed maple. Table, in two pieces, in medium pored fir.
• Length of the case : 75.6 cm
• Top width: 35.7 cm
• Width at the "C" : 24.5 cm
• Width of the bottom: 45.6cm
Value of the instrument: $36,000
Value of the case: $1,400
Bow
Made in 2008
Round stick in Pernambuco wood and ebony frog mounted in nickel silver with a Parisian eye. Two ferrule knob and bone plate.
Value of the bow: $900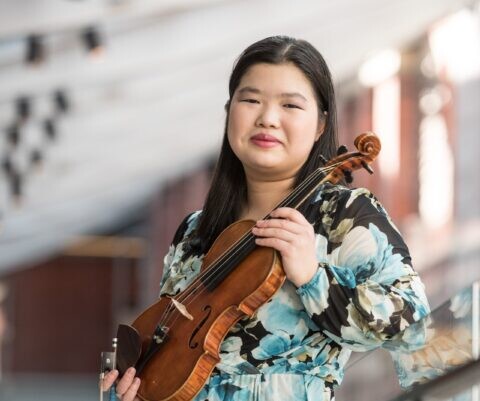 Yu Kai Sun
Loan of the Wilbaux violin
"I am very grateful to the JM Canada Foundation for letting me play these beautiful instruments for all these years. Many thanks for your generosity and help."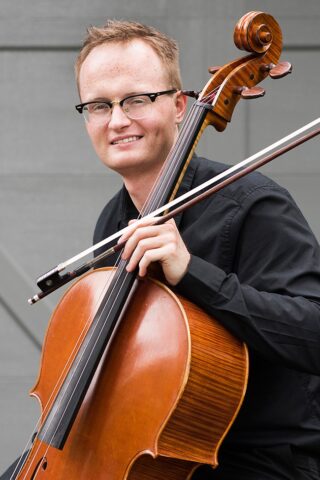 Noah Schuster
Loan of the Ivo Johannes Loerakker cello
"During the last 5 years I have performed on this cello with professional orchestras in Ontario, including the Kitchener Waterloo Symphony, Hamilton Symphony, the Niagara Symphony the National Academy Orchestra and two years as a musician in the National Youth Orchestra of Canada. During those 5 years other professional musicians commented on the richness and warm sound the instrument produces. Having been able to work with this cello has been a thoroughly rewarding experience. I would like to thank the JM Canada Foundation for the privilege of loaning me the Ivo Johannes Loerakker cello and Emmanuel Begin bow for the past 5 years."