Montréal, October 2, 2023 -The Jeunesses Musicales Canada Foundation Peter Mendell Award jury yesterday announced the winner of the 2023 edition: the talented violinist David Baik. At only 22, David Baik impressed the jury with his exceptional technical mastery, masterful interpretation and passionate commitment to music.
Native of South Korea, David Baik began his musical journey at an early age, showing extraordinary talent for the violin. He studied at McGill under the mentoring of renowned professor Andrew Wan, where he quickly made his mark. The $5,000 grant that accompanies the Peter Mendell Award represents an important asset for a young artist like David. It will give him the opportunity to pursue his promising career and support him in his goal of living out his dream of being a versatile musician with a wide range of talents.
The Peter Mendell Award, which recognizes the excellence of young student string players in Quebec, received a record number of applications this year, making David Baik's achievement even more remarkable. On September 29, at the Salle Joseph-Rouleau in the Maison André-Bourbeau, David Baik competed against two other talented finalists, Amos Friesen and Sebastian Gonzalez Mora.
David Baik embodies the promise and dynamism of classical music in Quebec. His passion, dedication and undeniable talent make him an ambassador for classical music in Quebec and beyond.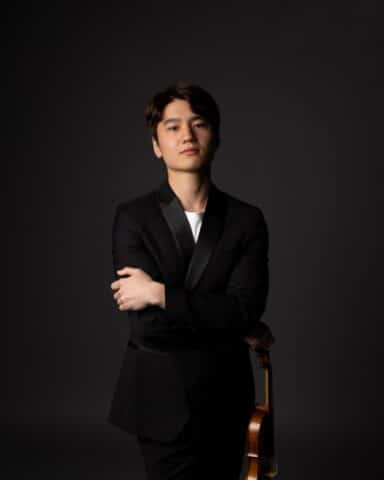 David Baik's biography
Featured on the Canadian Broadcasting Corporation's (CBC) "30 Hot Canadian Classical Musicians Under 30″, South Korean-born violinist David Baik is noted for his powerful yet sincere sound. Baik is the recipient of numerous awards, including the Grand Prize at the 2021 NAC Bursary Competition, consecutive First Prizes at the 2016 and 2017 Canadian Music Competition, the Sturdevant Prize, and the Gerhard Kander Graduating Award. In 2022, Baik obtained his Bachelor's degree from the University of Toronto where he studied with Jonathan Crow, and now is a fellowship recipient at the Schulich School of Music studying with Andrew Wan.
As an active soloist, Baik's recent highlights include recitals presented by the DOMS concert series and the Isabel Bader Centre, a guest soloist for the Durham Chamber Orchestra, as well as a performance at the National Commemorative Ceremony in honour of Queen Elizabeth II as an invited solo artist. David Baik performs on the 1871 Jean-Baptiste Vuillaume violin, graciously on loan by the Canada Council for the Arts Musical Instrument Bank.
For further information:
Véronique Desjardins
General Director
Fondation JM Canada
fondation@jmcanada.ca