Press Release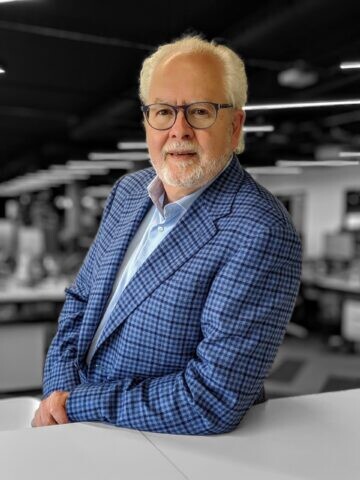 Montreal, September 28, 2022 – At the Annual General Meeting held on Saturday, September 24, Jeunesses Musicales Canada (JM Canada) elected Mr. Luc Perreault, Strategic Advisor at Stingray, as Chairman of the board.
Luc Perreault is a media manager with proven experience in the broadcasting and digital media industries. His expertise in streaming media, digital strategy, broadcasting, video and technology will help JM Canada better position itself in the digital age. A thought leader in business development, he knows how to navigate an ecosystem where disruption is the new normal.
In addition to the election of a new president, two new directors were also elected to the board : Louis Philippe Angers, strategic development advisor for Stantec Experts, and André Poulin, real estate broker at Sotheby's Realty International Québec.
Quotes
"After two years as a director on our board of directors, we are very happy to have Luc Perrault as chairman. He is very familiar with our issues and those related to the distribution of music. His expertise will allow us to increase the visibility of our artists and classical music among young audiences. – Danièle LeBlanc, Executive and Artistic Director.
"It is a pleasure for me as chairman to contribute to the growth of Jeunesses Musicales Canada and to increase the organization's notoriety through my expertise. I hope to be able to give new impetus to this organization that has continually renewed itself for nearly 75 years." – Luc Perreault, President of JM Canada
Board of Directors
Chair
Luc Perreault
Strategic Advisor
Stingray
Vice-chair
Danilo C. Dantas
Associate professor of marketing
HEC MONTRÉAL
Secretary
Me Guillaume Lavoie
Attorney
CABINET TORYS
Treasurer
Frédérique Leblanc
Associate
BOSTON CONSULTING GROUP
Administrateurs
Wilfred Alliston
President
JM NOUVEAU-BRUNSWICK
Louis Philippe Angers
Strategic Development Advisor
STANTEC EXPERTS
Alain Bisson
Music teacher
ÉCOLE NOTRE-DAME-DE-GRÂCE
Artistic Director
HARMONIE AURORA
Philip Chiu
Pianist
Véronique Desjardins
Executive Director by interim
JM Canada Foundation
Mylène Feuiltault
Communications Director
THÉÂTRE DU TRIDENT
Monique Frappier
Member
BAIE-DES-CHALEURS JMC Chapter
Florence Junca-Adenot
Chair
JM CANADA FOUNDATION
Professor and Director of the FORUM Urba 2015
UQAM
Danièle LeBlanc
Executive and Artistic Director
JM CANADA
Michelle Mercier
Freelance Consultant
André Poulin
Real Estate Broker
SOTHEBY'S REALTY INTERNATIONAL QUÉBEC
About Jeunesses Musicales Canada
Jeunesses Musicales Canada is a talent incubator that boosts the careers of the best emerging musicians while promoting classical music for audiences of all ages. Today, a JM Canada season includes over 1,600 musical activities across Canada, ranging from chamber music concerts to exciting musical activities for young audiences.
– 30 –
Source:
Noémie Vallet
Communications Director by interim
Jeunesses Musicales Canada
(514) 845-4108, poste 222 | nvallet@jmcanada.ca