Presse release
Pianist Élisabeth Pion recognized
Montreal, Friday, May 27, 2022 – The JM Canada Foundation is pleased to award the 2022 Choquette-Symcox Prize to pianist Élisabeth Pion. The artist was awarded a $6,000 scholarship for excellence.
"For the past few years, we have been following the evolution of this young artist and we are pleased to recognize with this award her musical talent, her influence on the national scene, her commitment as well as the maturity with which she plans her career development", explains Véronique Desjardins, acting executive director of the Fondation JM Canada.
Each year, the Fondation JM Canada and Jeunesses Musicales Canada choose, at their discretion, the winner of the award, which aims to support a young Quebec musician in his or her career development.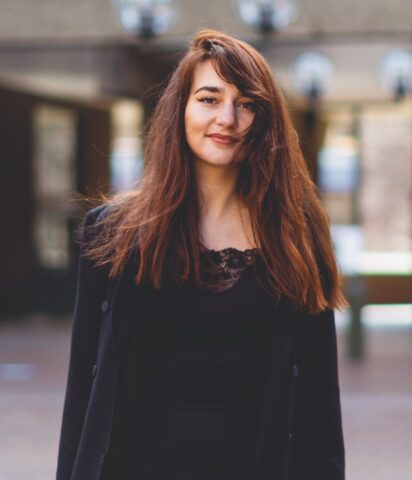 Biography of Élisabeth Pion
A curious and innovative artist, pianist Élisabeth Pion (1996) is internationally active as a soloist, chamber musician, and artistic collaborator. Based in London, Élisabeth is currently finishing the Artist Diploma with Ronan O'Hora at the Guildhall School of Music & Drama, where she is a full scholarship holder since 2018. She is also part of the Imogen Cooper Trust, and has previously worked in Canada with Francine Lacroix, Suzanne Goyette and André Laplante.
In 2018, Élisabeth was named in the CBC Palmares 30 Hot Canadian Classical Musicians under 30. She made her BBC Radio 3 broadcast debut in 2019, and her Wigmore Hall solo recital debut in 2021. She has also presented a collaborative recital with mezzo-soprano Alexandra Achillea Pouta at Carnegie Hall's Weill Recital Hall in January 2022. She has previously been invited as a soloist with the Ensemble Volte, the Orchestre classique de Montreal, the Orchestre symphonique de Laval & Longueuil, the Victoria Symphony, and Arion Orchestre Baroque. She is the Co-artistic Director of the Festival Unisson, and the pianist of the De Beauvoir Piano Trio, which has recently worked in IMS Prussia Cove with Thomas Adès.
Élisabeth is grateful for the support of the Guildhall School of Music and Drama, the Sylva Gelber Music Foundation, the Fondation Jeunesses Musicales Canada, The Musicians' Company Carnwath Scholarship, Help Musicians UK, and Talent Unlimited UK.
About the Choquette-Symcox Award
Created in 2010 at the initiative of Messrs. Fernand Choquette and Peter Symcox, the Choquette-Symcox Award is presented each year to support the talent and virtuosity of a young Quebec musician with a developing career.
About the JM Canada Foundation
The JM Canada Foundation works to raise, create, and administer funds to support the mission of JM Canada, which cultivates an appreciation for various types of classical music among young audiences, supports the development of young, classically trained musicians, and helps further the developing careers of young Canadian musicians.
– 30 –
Information:
Véronique Desjardins
Interim Executive Director
JM Canada Foundation
fondation@jmcanada.ca
​