Press Release
JEUNESSES MUSICALES CANADA UNVEILS THE CAST
OF THE OPERA UNE VEUVE JOYEUSE FOR THE 2022–2023 SEASON
Montreal, Wednesday, April 13, 2022 – Jeunesses Musicales Canada (JM Canada), in collaboration with the Festival d'opéra de Québec, is pleased to announce the cast of the operetta Une veuve joyeuse, an intimate adaptation of Franz Lehàr's La veuve joyeuse. The premiere will take place on July 24, 2022 as part of the Festival d'opéra de Québec at the Théâtre La Bordée.
The staging is conceived by Alain Gauthier, whose stage work for the opera community is recognized both in Canada and internationally. The text of the adaptation is reworked by award-winning author and screenwriter Pascal Blanchet. Esther Gonthier, a vocal coach and pianist in demand in Canada and Europe, is the musical director.
A popular operetta performed throughout the world, JM Canada proposes for the 2022-2023 season a new formula with four singers, two actors and a pianist. Tours in eastern and western Quebec and the Maritime provinces are then planned for the fall.
Une veuve joyeuse
Paris, Embassy of Marsovia. To lift Pontevedro from its economic crisis, a reception is held to persuade the wealthy widow Missia Palmieri to remarry a fellow countryman. Count Danilo seems to be the ideal candidate, especially since they were once very much in love with each other. After a misunderstanding leads to the end of their romance, how will Danilo and Missia manage to swallow their pride and convince each other of their true passion? In a festive Europe where love reigns, enjoy one of the most popular operettas ever written and spend a delightful hour!
Cast
Missia—Mathilde Duval-Laplante, soprano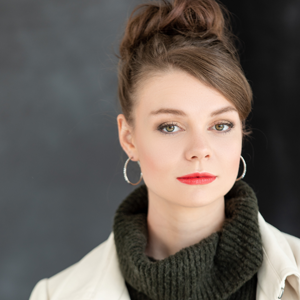 A native of Quebec City, Mathilde Duval-Laplante is a charismatic soprano with a sparkling voice. Born into a family of musicians, she sang on stage for the first time at the age of 4, with her singer parents, France Duval and Bruno Laplante, and her older sister Rosemarie, with whom she toured nationally and internationally for 10 years. In 2013, she played a young soprano in the film Triptyque by Robert Lepage and Pedro Pires. In 2018, Mathilde obtained her first operatic role in the production Vienna Waltzes where she performed, among others, Strauss' Frühlingsstimmen. She won second place in the Kingdom Competition and first place in her category in the Canadian Music Competition. In 2020, she was awarded a merit scholarship for her video L'Imaginaire du malade as a semi-finalist in the Fondation JM Canada's Domicile Adoré competition.
Count Danilo—Sébastien Comtois, tenor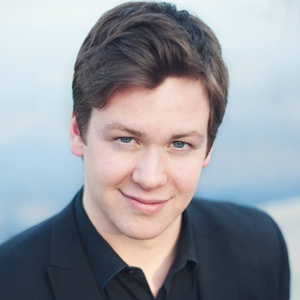 Sébastien Comtois is a tenor from Montreal. In the summer of 2022, he will sing the role of Siegmund in the opera Die Walküre (Wagner) at the Dramatic Voices Program Berlin. He obtained his Bachelor's degree in 2016 at the Université de Montréal with baritone John Fanning and completed his Master's degree at McGill University with tenor John MacMaster. He has been heard as Basilio (Le nozze di Figaro), the husband (Les mamelles de Tirésias), Aeneas (Dido and Aeneas), The Teapot/The Cat (L'enfant et les sortilèges), Candide (Candide), and Albert Herring (Albert Herring), among others. In the summer of 2021, he had the opportunity to work on the role of Don José during his stay at the Domaine Forget Academy with renowned artists such as Jean-François Lapointe and Marie-Nicole Lemieux. He was also one of the guest singers at the Indian River Festival in Prince Edward Island. A good actor, Sébastien also distinguishes himself in the operetta repertoire. He has sung for Le théâtre lyrique de la Montérégie (La vie parisienne, Une nuit à Venise) and L'Opéra bouffe du Québec (Véronique).
Nadia— Klara Martel-Laroche, mezzo-soprano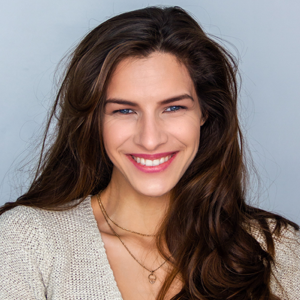 A curious and sensitive artist, mezzo-soprano Klara Martel-Laroche is currently completing her graduate studies at the Conservatoire de musique de Montréal in Adrienne Savoie's class. In recent years, she has appeared as Cinderella in Jules Massenet's opera of the same name, Prince Orlofsky in Johann Strauss Jr.'s Die Fledermaus, The Step-Mother in Philipp Glass and Robert Moran's The Juniper Tree, Cricri in Francis Lopez's Le chanteur de Mexico and Claudine in Jacques Offenbach's La fille du tambour-major. She is the recipient of the Monique-Barry Prestige Scholarship awarded by the Conservatory Foundation as well as the Ratycz-Myre Scholarship offered by Opéra Bouffe du Québec. In 2019, she won the third place in the Vocal Competition of the CFMTA Conference, a pan-Canadian competition in which she represented the province of Quebec. In December 2022, Klara will sing the role of Maria in the production of La mélodie du bonheur, presented at the Théâtre Saint-Denis.
Popoff—Martin Perreault, actor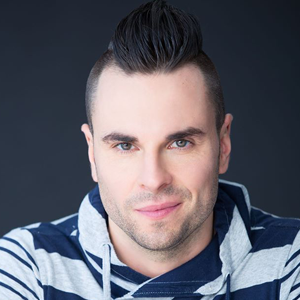 After graduating from the Conservatoire d'Art Dramatique de Québec in 2004, Martin Perreault immediately became interested in directing actors. He has directed several actors in the preparation of their entrance exams for theater schools and has over fifty productions to his credit with children aged 9 to 17. He directs professional actors in preparation for a series or a film and now teaches at Ateliers Danielle Fichaud. In addition to his passion for teaching, you could see him as an actor on different stages in Quebec, Ontario and even Europe such as the Théâtre du Trident, the Périscope, Premier Acte, the Espace Libre, the NAC or on the screen in many series such as Yamaska, L'Auberge du Chien Noir, Sur-Vie and many others. You can also hear his voice on various mediums, as he accumulates experiences in narration, dubbing and superimposition. In addition to teaching and acting, Martin is also involved in animation for various television programs on Radio-Canada and the NOOVO channel.
Camille—Marc-Antoine Brûlé, tenor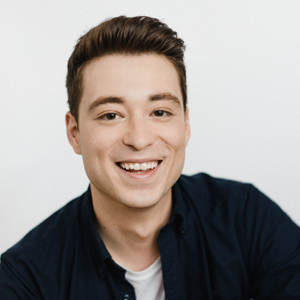 A native of Victoriaville, Quebec tenor Marc-Antoine Brûlé is an inquisitive artist who is particularly interested in the creation of new music. He has recently performed works by Canadian composers such as Éric Champagne, Benjamin Sajo and Mathilde Côté. He has also performed the roles of Eisenstein (Die Fledermaus, Strauss), Prince Charming (Cendrillon, Massenet) and Pluto (Orpheus in the Underworld, Jacques Offenbach). He has sung with the Opéra de Montréal, the Opéra de Québec, and at the Rendez-vous musical de Laterrière. In 2020, he received the Stingray Rising Star Award from the Atelier lyrique de l'Opéra de Montréal. He has received grants from the JM Canada and Desjardins foundations. He continues his career with the Atelier lyrique de l'Opéra de Montréal for the 2022–2023 season.
D'Estillac – Jeffrey Bernier, musical theater performer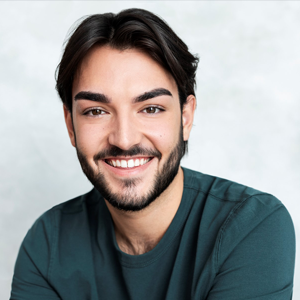 Musical theatre performer, Jeffrey Bernier is finishing his last year of training in musical theatre at the Professional Theatre School of Collège Lionel-Groulx. However, Jeffrey's artistic journey began in high school, when he discovered the performing arts. A passionate and curious student, he was part of all the extracurricular groups. He was awarded the Gaétan Marcil trophy in recognition of his determination and perseverance as a young actor. He also met dedicated teachers such as Marianne Lambert and Nathalie Deschamps, who introduced him to classical singing. He then participated in the choirs of the Conservatoire de musique et d'art dramatique du Québec as well as the Voix Parallèles choir at the École de musique Vincent d'Indy. Since then, he has continued his training with baritone Dominique Côté. On the musical theatre scene, in addition to his acting workshops (Waitress and Mamma Mia!) under the artistic direction of Olivier Berthiaume, Jeffrey played the role of Vladimir Popov in Hommage à Anastasia performed at the Théâtre Lionel-Groulx.
About the Festival d'opéra de Québec
The Festival d'opéra de Québec is Canada's premier opera festival. Its mission is to produce, co-produce and present international shows, events and activities that highlight opera during the summer season in Quebec City. It contributes to the international reputation of la Capitale-Nationale, while positioning itself among the world's leading opera events. The diversified program, which includes key works from the repertoire with international artists, open-air shows, apéro-concerts and recitals, will appeal to both opera lovers and those who are new to the art form.
About Jeunesses Musicales Canada
Jeunesses Musicales Canada (JM Canada) is an incubator of talent that propels the careers of emerging musicians and contributes to the dissemination of classical music to audiences of all ages. Today, a JM Canada season represents more than 1,600 musical activities across Canada, from chamber music concerts to stimulating musical activities for young people. Since its founding in 1949, a host of renowned artists have had the opportunity to make their debut at JM Canada: singers Joseph Rouleau, Maureen Forrester, Marc Hervieux, Marie-Nicole Lemieux and Étienne Dupuis; violinists Angèle Dubeau and James Ehnes; and more recently, pianist Charles Richard-Hamelin, OSM concertmaster Andrew Wan and cellist Stéphane Tétreault, among others.
– 30 –
For more information:
Noémie Vallet
Head of Communications
Jeunesses Musicales Canada
(514) 845-4108 ext. 222 | nvallet@jmcanada.ca