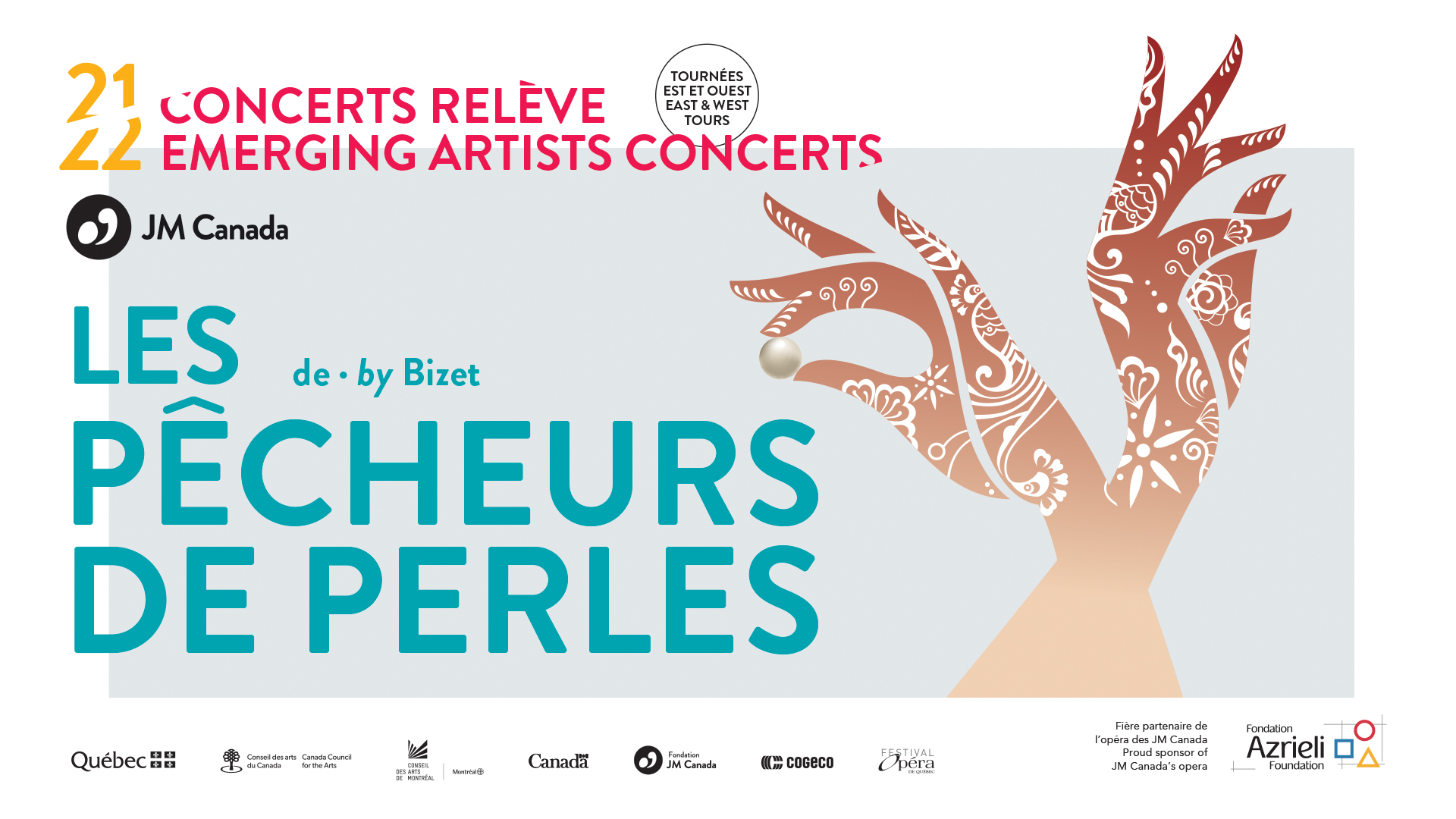 Press release
For immediate release
Jeunesses Musicales Canada unveils the cast for its 2021-2022 production of the opera The Pearl Fishers
Montreal, June 28th, 2021 – Jeunesses Musicales Canada (JM Canada) is pleased to announce the cast of Bizet's opera The Pearl Fishers, which will premiere on July 31st, 2021, during the Festival d'opéra de Québec. The cast includes Carole-Anne Roussel (Leïla), Louis-Charles Gagnon (Nadir), Bruno Roy (Zurga), Olivier Bergeron (Nourabad) and Holly Kroeker (piano). Alain Gauthier will assure the stage direction, while Esther Gonthier is the musical director.
Tours in eastern and western Quebec and the Maritime provinces are planned for the fall of 2021 and the spring of 2022.
The Pearl Fishers
"At the back of the holy temple, adorned with flowers and gold, a woman appears." One of the most beautiful French lyrical duets gave birth to Bizet's first opera at the age of 25 and laid the foundation for a story of betrayed friendship, impossible love and sacrificial rituals. The fishermen Zurga and Nadir, and the object of their desire, the priestess Leila, form a loving trio, bound by an oath that is doomed to failure. At the crossroads of India and Asia, the island of Ceylon will be witness to this tragic story.
Cast
Leïla – Carole-Anne Roussel (soprano)
Carole-Anne Roussel is a Quebec-born soprano who is appreciated for the purity of her voice, her natural stage presence and her infectious good humor. Recipient of the prestigious Prix d'Europe 2021, she is currently artist-in-residence at the Chapelle musicale Reine Elisabeth of Belgium under the tutelage of José Van Dam and Sophie Koch. In recent years, she has been heard in Rachel in Kendra Harder's Book of Faces and Echo in Richard Strauss's Ariadne auf Naxos; Helena in Britten's A Midsummer Night's Dream; and Laurette in Bizet's Le Docteur Miracle. She most recently sang at the gala Les mots/maux d'amour à l'opéra at l'opéra de Québec.
Nadir – Louis-Charles Gagnon (tenor)
The tenor Louis-Charles Gagnon has a noble and refined voice that combines a brilliant timbre, an expressive style and an ease of agility. He has recently been heard in Vespers for a Confessor (Mozart) and as Edgardo in Jeunesses Musicales Canada's latest production of the opera Lucia di Lammermoor (Donizetti). Recent credits include the role of Septimius in Handel's Theodora and the role of Gherardo and understudy for Rinuccio in Puccini's Gianni Schicchi in the UK and at the Festival d'opéra de Québec as the Second Priest in Mozart's The Magic Flute directed by Robert Lepage.
Zurga – Bruno Roy (baritone)
Canadian baritone Bruno Roy is a recent member of the Canadian Opera Company's Studio Ensemble. He has performed the roles of Zweiter Priest in The Magic Flute (Mozart), the jailer in Tosca (Puccini), Louis Schmidt and Dr. François Roy in Louis Riel (Somers), Lamoral in Arabella (Strauss), Marullo in Rigoletto (Verdi), and in Robert Lepage's production of The Nightingale and Other Fables. He has been heard recently as Belcore in L'elisir d'amore (Donizetti); John Brooke in Little Women and Count Almaviva in Le nozze di Figaro (Mozart) and Mercutio in Romeo and Juliet (Gounod). He made his debut in Capriccio (Strauss) at Oper Frankfurt in the fall of 2018 and was the baritone soloist in Carmina Burana (Orff) with the Ottawa Choral Society in May 2019.
Nourabad – Olivier Bergeron (baritone)
Montreal native Olivier Bergeron made his professional debut in 2018 in Purcell's Dido and Aeneas with Les Talens Lyriques conducted by Christophe Rousset at the Menton Festival. The following year, he participated in the French premiere of Galuppi's Il mondo alla roversa, presented as a co-production at Opéra Grand Avignon, Opéra de Reims, and the Philharmonie de Paris. In recital, Olivier made his debut at the Wigmore Hall, London, and then at the Salle Cortot, Paris. Olivier Bergeron is the recipient of the 2018 Choquette-Symcox Prize, the Royaumont Foundation, the Art Song Foundation of Canada, and the École normale de musique de Paris.
Holly Kroeker (piano)
Holly is a sought-after collaborator, accompanist and opera vocal coach. She completed her training in the young artist program of the Atelier lyrique de l'Opéra de Montréal. During the 2019-2020 season, she served as lead pianist-repeater for The Magic Flute and assistant pianist-repeater for Opéra de Montréal's Eugene Onegin (Tchaïkovsky) and Lucia di Lammermoor (Donizetti). She has collaborated in the organization of the Cabaret Bel Canto (Orchestre de l'Agora) and the Grands opéras : gala of Laval Symphony Orchestra.
About the Quebec City Opera Festival
The Quebec City Opera Festival is Canada's premier opera festival. Its mission is to produce, co-produce and present international shows, events and activities that highlight opera during the summer season in Quebec City. It contributes to the international reputation of la Capitale-Nationale, while positioning itself among the world's leading opera events. The diversified program, which includes key works from the repertoire with international artists, open-air shows, apéro-concerts and recitals, will appeal to both opera lovers and those who are new to the art form.
About Jeunesses Musicales Canada
Jeunesses Musicales Canada (JM Canada) is an incubator of talent that propels the careers of emerging musicians and contributes to the dissemination of classical music to audiences of all ages. Today, a JM Canada season represents more than 1,600 musical activities across Canada, from chamber music concerts to stimulating musical activities for young people. Since its founding in 1949, a host of renowned artists have had the opportunity to make their debut at JM Canada: singers Joseph Rouleau, Maureen Forrester, Marc Hervieux, Marie-Nicole Lemieux and Étienne Dupuis; violinists Angèle Dubeau and James Ehnes; and more recently, pianist Charles Richard-Hamelin, OSM concertmaster Andrew Wan and cellist Stéphane Tétreault, among others.
– 30 –
For more information:
Noémie Vallet
Head of Communications
Jeunesses Musicales Canada
(514) 845-4108 ext. 222 | nvallet@jmcanada.ca