Violinist Yu Kai Sun recognized  
Montreal, Friday, April 18, 2023 – The JM Canada Foundation is pleased to award the 2023 Choquette-Symcox Award to violinist Yu Kai Sun. The artist has been awarded a $6,000 scholarship for excellence.  
"The Foundation has been supporting Yu Kai since 2015, she is an AIDA recipient and beneficiary of our instrument bank and today, she continues to distinguish herself by the place she is forging in a very competitive environment. We wanted to highlight this excellence", explains Véronique Desjardins, executive director of the JM Canada Foundation.  
Each year, the JM Canada Foundation and Jeunesses Musicales Canada choose, at their discretion, the winner of the award, which aims to support a young Quebec musician in his or her career development.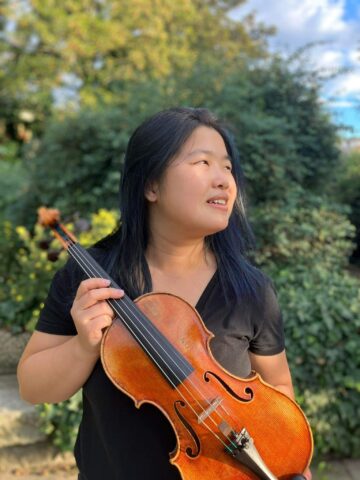 Biography of Yu Kai Sun  
Recipient of the JM Canada Foundation's Artist Assistance Fund (AIDA Fund), Quebec violinist Yu Kai Sun has performed in numerous festivals and concerts across Canada, the United States, Europe and Asia. She has recently been named associate concertmaster of the Pacific Music Festival Orchestra in 2022 and concertmaster of the Schleswig-Holstein Musik Festival Orchestra in 2021.   
With these two orchestras, she has had the opportunity to perform at Suntory Hall in Tokyo and the Elbphilharmonie in Hamburg. A winner of the Glenn Gould School Concerto Competition, Yu Kai recently performed Shostakovich's Violin Concerto No.1 with the Royal Conservatory Orchestra. In addition, she has been a soloist with the Oakville Chamber Orchestra, the North York Concert Orchestra, the York Symphony Orchestra, the Mississauga Symphony Orchestra and the Vancouver Metropolitan Orchestra.   
Born in China, Yu Kai discovered the violin at the age of 8. From 2013 to 2017, completing a Diploma of Specialized Studies at the age of 18, she studied at the Conservatoire de musique de Montréal in the class of Helmut Lipsky. She then completed a Bachelor of Music degree at the Glenn Gould School of the Royal Conservatory of Music under the teaching of Victor Danchenko. She is currently pursuing a Master of Music degree at the Colburn School with Martin Beaver.   
Yu Kai plays a 1917 Carl Becker violin on loan from The Colburn Collection and a Benoit Rolland bow on loan from violinist Anne Akiko Meyers through The Colburn School. 
About the Choquette-Symcox Award   
Created in 2010 by Fernand Choquette and Peter Symcox, the Choquette-Symcox Award is given each year to support the talent and virtuosity of a young Quebec musician in his or her career development.   
About the Foundation JM Canada  
The JM Canada Foundation promotes the discovery of classical music among young audiences and supports the career development of young classically trained musicians on the national scene. 
– 30 –  
Information: 
Véronique Desjardins 
Executive Director 
JM Canada Foundation 
vdesjardins@jmcanada.ca