VOTE NOW !
As part of its Do Mi Si La Do Ré (Home Sweet Home) Contest, the Jeunesses Musicales Canada Foundation is proud to announce that it has received MORE THAN 150 applications!
From May 20 to June 14, it's up to you, the public, to vote for your favourite video and make a donation to our emerging musicians: 1 vote = $1*
All funds raised through the Do Mi Si La Do Ré (Home Sweet Home) Contest (fundraising campaign) will be distributed in the form of scholarships to the winners of this competition and all surpluses will go to the JM Canada Foundation's AIDA Fund, a fund that has awarded more than $3 million in scholarships to young artists in career development since its creation in 2001.
More than ever, musicians need your support to get through these uncertain times. By voting and making a donation, you will make all the difference in their lives.
*A minimum of 5$ per transaction is required by the voting platform. A tax receipt will be sent to you for all donations over $5.
** The final score for each application will be out of 100 (public vote will count for 50% and the pre-selection jury's score will count for 50%).
First prize of $10,000!
Concerned and attentive to the needs of musicians in these difficult times, the JM Canada Foundation (FJMC) has decided to help artists by creating the Do Mi Si La Do Ré (Home Sweet Home) Contest . While these few notes protect us from being infected by COVID-19, they become a source of inspiration for artists who, more than ever, are eager to perform and be heard by the public.
Are you under the age of 30 and a classical music instrumentalist, singer or composer who would like to create and perform on the theme of confinement?
Our contest invites you to compose and perform a piece of music of 3 minutes or less on the theme of the musical phrase Do Mi Si La Do Ré (Home Sweet Home).
Find all the application details here
Rules and eligibility

Download the Rules and Eligibility here (PDF)
Next steps:
The contest will consist of 3 main steps:
The Foundation will publish videos, meeting the requirements, online, May 20, 2020.
Ten of the submitted videos will be selected for the final round. The score will be based on the public's vote (50%) and jury's notation (50%). Participants will have from May 20 to June 14, 2020, to promote their video to their networks to collect as many votes as possible.
The ten selected videos will be scored once more, by a jury composed of some of the biggest names in Canadian Classical Music.
What are the different prizes?
The JM Canada Foundation is pleased to announce more than $25,000 will be awarded in grants through this competition.
The first 50 videos submitted that are eligible for the contest will receive a $100 prize. Hurry up and send in your creation!
First prize: $10,000
Second prize: $5,000
Third prize: $3,000
The remaining seven finalists will receive a $1,000 grant each.
*For candidacies with more than one participant, grants will be divided according to the number of musicians listed on the form.
Official Jury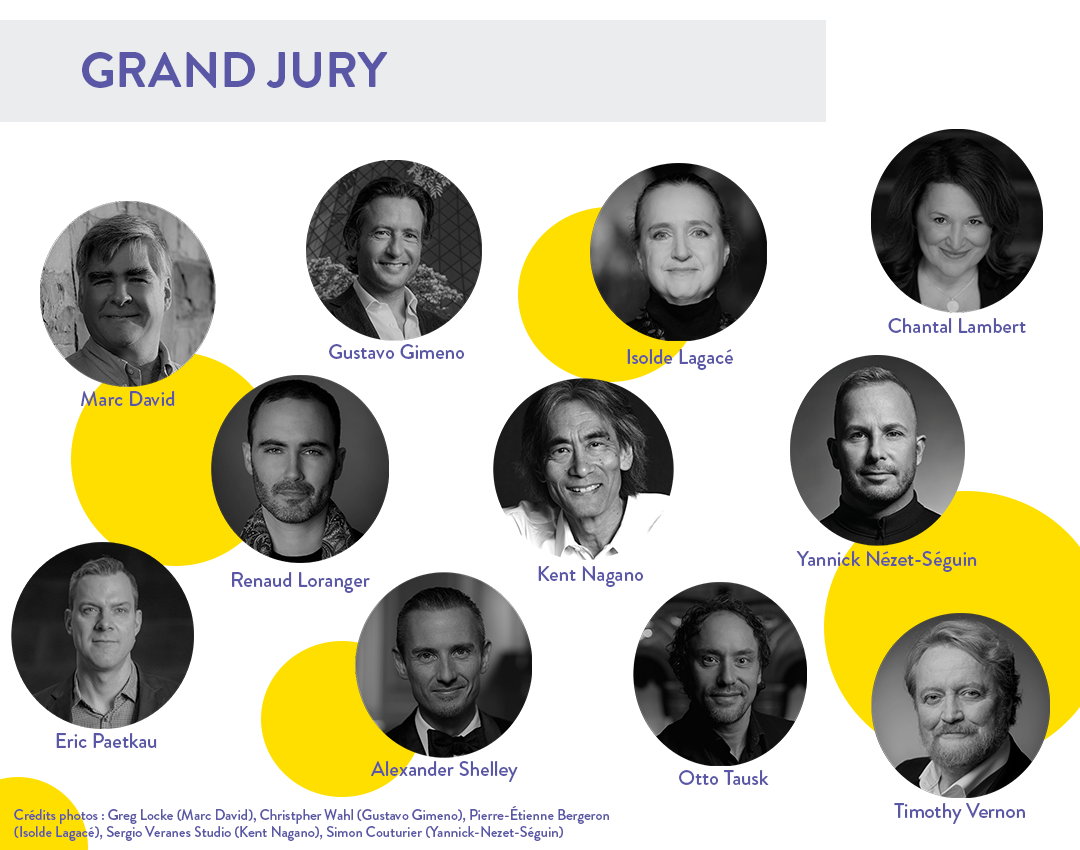 Marc David, Music Director, Newfoundland Symphonic Orchestra
Gustavo Gimeno, Music Director, Toronto Symphony Orchestra
Isolde Lagacé, Executive and Artistic Director, Salle Bourgie/Fondation Arte Musica
Chantal Lambert, Director, Atelier lyrique de l'Opéra de Montréal
Renaud Loranger, Vice President Artists & Repertoire, PENTATONE and Artistic Director, Festival de Lanaudière
Kent Nagano, Music Director, Orchestre symphonique de Montréal
Yannick Nézet-Séguin, Artistic Director and Principal Conductor, Orchestre Métropolitain (Montréal), Music Director, The Philadelphia Orchestra and Music Director, The Metropolitan Opera (New York)
Eric Paetkau, Music Director, Saskatoon Symphony Orchestra
Alexander Shelley, Music Director, Canada's National Arts Centre, Principal Associate Conductor, London's Royal Philharmonic Orchestra, Ambassador, OrKidstra
Otto Tausk, Music Director, Vancouver Symphony Orchestra and Artistic Advisor, Vancouver Symphony Orchestra School of Music
Timothy Vernon, Artistic Director, Pacific Opera Victoria
Photo credit :  Greg Locke (Marc David), Christopher Wahl (Gustavo Gimeno), Pierre-Étienne Bergeron (Isolde Lagacé), Sergio Veranes Studio (Kent Nagano), Simon Couturier (Yannick Nézet-Séguin)
Our Partners
The JM Canada Foundation would like to extend special thanks to Jeunesses Musicales Canada and the Canimex Canadian Music Competition.
Help our participants!
The Contest in the Media
Information