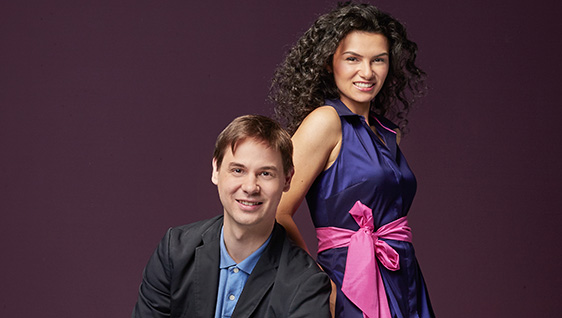 Watch the video
Despite its thousand years of cultural history, the music of Armenia remains little known. This concert is a celebration of the creativity and resilience of the Armenian people, whose music bears the mark of both the genocide and the country's folklore. Accompanied by Michel-Alexandre Broekaert on the piano, violinist Nuné Melik will present the fruits of her quest to share the music of her people. Allow this expressive duo to lead you to discover Armenia's rich and intense musical repertoire.

A FIRST LOOK AT THE REPERTOIRE*

KOMITAS VARDAPET (1869-1935)
• Keler tsoler
• Vagarshapati dance

ARAM ILITCH KHATCHATOURIAN (1903-1978)
« Nune's Variation », extrait the ballet Gayaneh

ALEKSI MATCHAVARIANI (1913-1995)
Doluri (transcription for violon : Nuné Melik)

*JMC reserves the right to modify the repertoire without prior notice.

Concert dates
Date
Infos
No dates availables
Hidden Treasures - West Tour
ARTISTS
Michel-Alexandre Broekaert, piano
Nuné Melik, violin
To get more information about this concert, please contact
Véronique Desjardins
, Concerts and Emerging Artists Coordinator