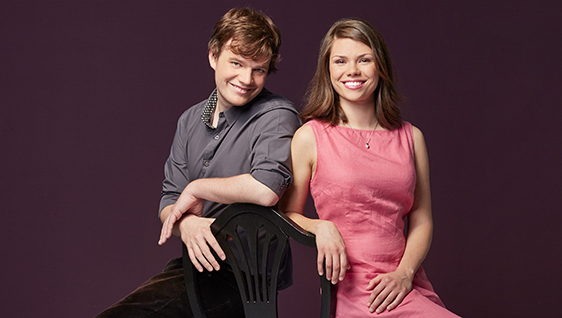 Watch the video
As a child, pianist André Mathieu was nicknamed "the Québécois Mozart." To honour his artistic legacy on the 50th anniversary of his death, pianists Rosemarie Duval-Laplante and Jean-Michel Dubé will perform works for two and four hands composed by André Mathieu himself, by his father Rodolphe, and by some of the composers that inspired them: Mozart, Debussy, and Gershwin. Embark on a musical journey through the life of this composer who holds an important place in Canada's heritage.

A FIRST LOOK AT THE REPERTOIRE*
ANDRÉ MATHIEU (1929-1968)
Prélude no 5, « prélude romantique »
RODOLPHE MATHIEU (1890-1962)
Chevauchée
WOLFGANG AMADEUS MOZART (1756-1791)
Sonate pour piano quatre mains en ré majeur, K. 381 (123a) : III. Allegro molto
Sonata for piano four-hands in D major, K. 381 (123a): III. Allegro molto
*JMC reserves the right to modify the repertoire without prior notice.

Concert dates
Date
Infos
No dates availables
The Mathieus' Piano - West Tour
ARTISTS

Jean-Michel Dubé, piano
Rosemarie Duval-Laplante, piano

To get more information about this concert, please contact
Véronique Desjardins
, Concerts and Emerging Artists Coordinato