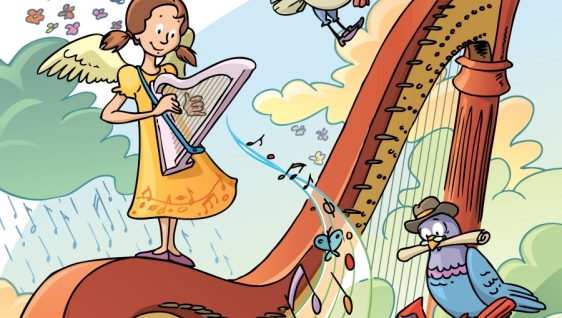 Watch the video
Head in the Clouds
Join Annabelle in this magical dreamworld and become enchanted by the diverse sounds of her harps : sometimes soft. sometimes thunderous and sometimes electric.
Since she was a little girl everyone said Annabelle had her head in the clouds. She never believed them until one day, as she was listening to the birds sing on her walk to school, wings suddenly started to grow out of her back! With two flaps of her new wings, Annabelle finds herself standing up in the sky on a cloud.
In this dream world where birds have strange names like Salzedo, Debussy, and Albeniz, Annabelle is able to change the weather just by the sounds of her harps. In this state, Annabelle is no longer sure whether she's a little girl, a bird or an angel.
Target Audience: 3 to 7 years old
Concert Length: 40 minutes
Maximum Audience: 100 people
Languages: French and English
Concert dates
Date
Infos
No dates availables
Head in the Clouds
ARTIST
Annabelle Renzo, harps
CONCEPT, SCRIPT AND STAGE DIRECTION
Marilyn Perreault -
Based on an original idea by Annabelle Renzo
SCENOGRAPHY
Cynthia St-Gelais, Mélanie Ouellette and Catherine Goerner Potvin
LIGHTING DESIGN
Simon Gauthier and Anne-Marie Legault – Lumin-ART Productions
ENGLISH TRANSLATION
Alexis Diamond
I'm interested in this concert