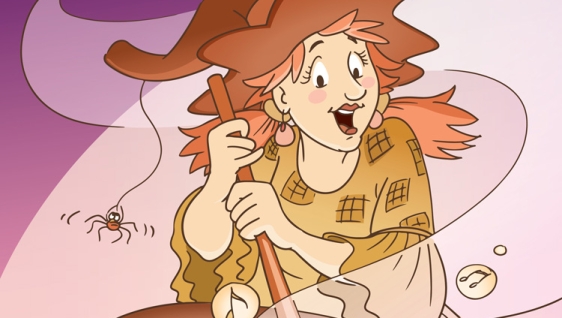 Watch the video
Offered in French only
La marmite ensorcelée
Become a sorcerer's apprentice and help create a magical sound potion. this concert combines classical, modern and original music.
In this concert, classical, contemporary and original music casts a spell on little ones. Oops-a-Daisy is a friendly witch. She's so friendly that she isn't able to be scary. Not surprising, then, that she never wins the scaring competition held by her fellow witches every Halloween. In order to win the great "That's So Scary!" competition and gain the respect of the mean witches, she needs to concoct a powerful sound potion that can make ears curl, skeletons dance, and ghosts laugh. But beware –such power could turn against her.
Explore the sometimes humorous, sometimes scary sounds that can be produced with percussion instruments and the voice.
Target Audience : 3 to 7 years old
Concert Length : 45 minutes
Maximum Audience: 200 people
Language : French
Concert dates
Date
Infos
No dates availables
La marmite ensorcelée
A JMC coproduction with JULIE SA MUSE
ARTIST
Julie Béchard,
percussion
STAGE DIRECTION
Judith Pelletier
SCENOGRAPHY
Pierre-Luc Boudreau, Maryse Messier and Stéphan Pelletier
COSTUME
Christine Pageau
LIGHTING DESIGN
Anne-Marie Legault
** This concert is offered as part of our Musical Escapades series, on October 22, 23, 24, 25, 26, 29 & 30, 2018, at the Joseph Rouleau Hall of JMC's André Bourbeau House.
I'm interested in this concert