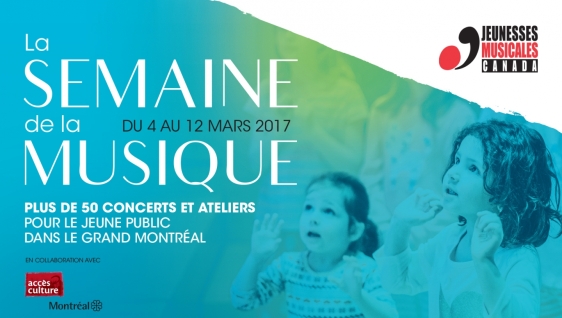 Jeunesses Musicales Canada is pleased to offer numerous musical activities in and around Montreal during La Semaine de la musique, from March 4th to March 12th, 2017.
To participate, just ask for your passes directly at the venue.
Most activities are free !
More information about the concerts and workshops can be found at the bottom of this page and in our dedicated brochure.
Semaine de la musique launching event: Jammies Jam - Celebrating the World
JMC's Jammies Jam is on Saturday, March 4th !
Hola, globetrotters! Come down after bedtime and dance around in your pajamas! A fun, musical evening for children ages 3 to 12 to discover party music and dance steps from around the world. It's like a little music and dance world expo! Snacks and refreshments will be offered. Bring your smile and your slippers! Opa!

Presented as part of Nuit blanche à Montréal and the MONTRÉAL EN LUMIÈRE festival
Concerts
Date
Infos

March 3 2017


19:00
Harpmania - NEW
Église Saint-Joseph
Rivière-des-Prairies (Quebec)
La semaine de la musique 2017 | 7 to 12 years old | Français


19:00 - Harpmania - NEW

HarpmaniaIn this animated concert featuring a diverse repertoire of mu-sical styles ranging from traditional to current, Annabelle Renzo passionately presents a varied assortment of harps and harp relatives. Making use of an ancient lyre, a grand...

http://data.jmcanada.ca/images/concerts/filename/2016/05/09/132710_harpemania_rgb72dpiweb_700x700pix.jpg

Église Saint-Joseph

10 050, boul. Gouin Est

Rivière-des-Prairies

,

CA-QC

CA

H1C1A8

Add to calendar

March 4 2017


14:00
Harpmania - NEW
Centre des loisirs de Saint-Laurent
Saint-Laurent (Quebec)
La semaine de la musique 2017 | 7 to 12 years old | Français


14:00 - Harpmania - NEW

HarpmaniaIn this animated concert featuring a diverse repertoire of mu-sical styles ranging from traditional to current, Annabelle Renzo passionately presents a varied assortment of harps and harp relatives. Making use of an ancient lyre, a grand...

http://data.jmcanada.ca/images/concerts/filename/2016/05/09/132710_harpemania_rgb72dpiweb_700x700pix.jpg

Centre des loisirs de Saint-Laurent

1375, rue Grenet

Saint-Laurent

,

CA-QC

CA

H4L5K3

Add to calendar

March 4 2017


14:00
Le chant de l'alouette - NEW
Centre culturel de Verdun
Verdun (Quebec)
La semaine de la musique 2017 | 6 to 12 years old | Français


14:00 - Le chant de l'alouette - NEW

Le chant de l'alouetteThe songs and melodies that underscored family life in early New France.Four artists transport you to Canada's pioneer days through the songs and tunes that underscored family life in early New France. These are the songs..

http://data.jmcanada.ca/images/concerts/filename/2016/05/09/135546_le_chant_de_l-alouette_rgbweb-72dpi_700pix.jpg

Centre culturel de Verdun

5955, rue Bannantyne

Verdun

,

CA-QC

CA

H4H1H6

Add to calendar

March 4 2017


14:00
Les 7 trompettes de Fred Piston
Maison de la culture Mercier
Montréal (Quebec)
La semaine de la musique 2017 | 6 to 12 years old | Français


14:00 - Les 7 trompettes de Fred Piston

Le jeune et sympathique Fred Piston, docteur en trompette et assistant du célèbre  Professeur Trompettito, s'amène avec ses 7 trompettes et vous invite à une éclatante  démonstration musicale et...

http://data.jmcanada.ca/images/concerts/filename/2014/04/21/162905_fredpiston_300dpi_web.gif

Maison de la culture Mercier

8105, rue Hochelaga

Montréal

,

CA-QC

CA

H1L2K9

Add to calendar

March 5 2017


11:00
Peter and the Wolf
Théâtre Outremont
Outremont (Quebec)
La semaine de la musique 2017 | 3 to 10 years old | Français


11:00 - Peter and the Wolf

Aux sons des trompettes, du cor, du trombone et du tuba prennent vie le courageux  Pierre, Hubert le grand-père, Carlos le chat, Édouard le canard, Julie la pie et le fameux  méchant loup. En forêt, au rythme des...

http://data.jmcanada.ca/images/concerts/filename/2014/04/21/145348_pierreloup2015_300dpirgb_2700x2700.jpg

Théâtre Outremont

1248, avenue Bernard Ouest

Outremont

,

CA-QC

CA

H2V2V6

Add to calendar Buy tickets

March 5 2017


14:00
Le chant de l'alouette - NEW
Maison culturelle et communautaire de Montréal-Nord
Montréal-Nord (Quebec)
La semaine de la musique 2017 | 6 to 12 years old | Français


14:00 - Le chant de l'alouette - NEW

Le chant de l'alouetteThe songs and melodies that underscored family life in early New France.Four artists transport you to Canada's pioneer days through the songs and tunes that underscored family life in early New France. These are the songs..

http://data.jmcanada.ca/images/concerts/filename/2016/05/09/135546_le_chant_de_l-alouette_rgbweb-72dpi_700pix.jpg

Maison culturelle et communautaire de Montréal-Nord

12 004, boul. Rolland

Montréal-Nord

,

CA-QC

CA

H1W3W1

Add to calendar

March 5 2017


14:00
The Great Rhythmobile Adventure
Maison de la culture Pointe-aux-Trembles
Montréal (Quebec)
La semaine de la musique 2017 | 6 to 12 years old | Français


14:00 - The Great Rhythmobile Adventure

La Rythmobile, bolide hybride tout-terrain surpuissant, est malencontreusement tombée en panne sèche. Le malhabile pilote Pataquès et son patenteux mécanicien Patatras ont dû se ranger en catastrophe sur...

http://data.jmcanada.ca/images/concerts/filename/2014/04/21/163325_expeditionrythmobile_rgb300dpi.jpg

Maison de la culture Pointe-aux-Trembles

14001 Notre-Dame Est

Montréal

,

CA-QC

CA

H1A1T9

Add to calendar

March 5 2017


15:00
Head in the Clouds
Auditorium Harold Greenspon
Côte Saint-Luc (Quebec)
La semaine de la musique 2017 | 3 to 7 years old | English


15:00 - Head in the Clouds

Even though everybody is always saying that she has her head in the clouds, Annabelle never believed it. But the one day, when she is just walking along to school, listening to the birds, wings suddenly growing out of her back!In two flaps of her new...

http://data.jmcanada.ca/images/concerts/filename/2015/02/06/115421_latetedanslesnuages_rgb300dpi.jpg

Auditorium Harold Greenspon

5801, boul. Cavendish

Côte Saint-Luc

,

CA-QC

CA

H4W1A6

Add to calendar

March 6 2017


10:30
La marmite ensorcelée
Maison de la culture Maisonneuve
Montréal (Quebec)
La semaine de la musique 2017 | 3 to 7 years old | Français


10:30 - La marmite ensorcelée

Le luthier italien Antonio Stradivari, surnommé Stradivarius, est un génie de la  fabrication des violons et des violoncelles. Mais quel est donc le secret de la confection  de ses instruments de musique exceptionnels? C'est.

http://data.jmcanada.ca/images/concerts/filename/2014/04/21/153616_marmite-ensorcelee.jpg

Maison de la culture Maisonneuve

4200, rue Ontario Est

Montréal

,

CA-QC

CA

H1V1K1

Add to calendar

March 6 2017


10:30
Stradivarius' Secret
Maison de la culture de Notre-Dame-de-Grâce
Montréal (Quebec)
La semaine de la musique 2017 | 3 to 6 years old | Français


10:30 - Stradivarius' Secret

Le luthier italien Antonio Stradivari, surnommé Stradivarius, est un génie de la  fabrication des violons et des violoncelles. Mais quel est donc le secret de la confection  de ses instruments de musique exceptionnels? C'est.

http://data.jmcanada.ca/images/concerts/filename/2014/04/21/153828_puces-stradivarius.jpg

Maison de la culture de Notre-Dame-de-Grâce

3755, rue Botrel

Montréal

,

CA-QC

CA

H4A3G8

Add to calendar

March 6 2017


11:00
Les 7 trompettes de Fred Piston
École secondaire Anjou
Montréal (Quebec)
La semaine de la musique 2017 | 6 to 12 years old | Français


11:00 - Les 7 trompettes de Fred Piston

Le jeune et sympathique Fred Piston, docteur en trompette et assistant du célèbre  Professeur Trompettito, s'amène avec ses 7 trompettes et vous invite à une éclatante  démonstration musicale et...

http://data.jmcanada.ca/images/concerts/filename/2014/04/21/162905_fredpiston_300dpi_web.gif

École secondaire Anjou

8205, rue Fonteneau

Montréal

,

CA-QC

CA

H1K4E1

Add to calendar

March 6 2017


13:00
Le chant de l'alouette - NEW
Bibliothèque publique de Dollard-des-Ormeaux
Dollard-des-Ormeaux (Quebec)
La semaine de la musique 2017 | 6 to 12 years old | Français


13:00 - Le chant de l'alouette - NEW

Le chant de l'alouetteThe songs and melodies that underscored family life in early New France.Four artists transport you to Canada's pioneer days through the songs and tunes that underscored family life in early New France. These are the songs..

http://data.jmcanada.ca/images/concerts/filename/2016/05/09/135546_le_chant_de_l-alouette_rgbweb-72dpi_700pix.jpg

Bibliothèque publique de Dollard-des-Ormeaux

12 001, boul. de Salaberry

Dollard-des-Ormeaux

,

CA-QC

CA

H9B2A7

Add to calendar

March 6 2017


14:00
Stradivarius' Secret
Maison de la culture de Notre-Dame-de-Grâce
Montréal (Quebec)
La semaine de la musique 2017 | 6 to 12 years old | Français


14:00 - Stradivarius' Secret

Le luthier italien Antonio Stradivari, surnommé Stradivarius, est un génie de la  fabrication des violons et des violoncelles. Mais quel est donc le secret de la confection  de ses instruments de musique exceptionnels? C'est.

http://data.jmcanada.ca/images/concerts/filename/2014/04/21/153828_puces-stradivarius.jpg

Maison de la culture de Notre-Dame-de-Grâce

3755, rue Botrel

Montréal

,

CA-QC

CA

H4A3G8

Add to calendar

March 7 2017


13:30
Les 7 trompettes de Fred Piston
L'Entrepôt
Lachine (Quebec)
La semaine de la musique 2017 | 6 to 12 years old | Français


13:30 - Les 7 trompettes de Fred Piston

Le jeune et sympathique Fred Piston, docteur en trompette et assistant du célèbre  Professeur Trompettito, s'amène avec ses 7 trompettes et vous invite à une éclatante  démonstration musicale et...

http://data.jmcanada.ca/images/concerts/filename/2014/04/21/162905_fredpiston_300dpi_web.gif

L'Entrepôt

2901, boul. St-Joseph

Lachine

,

CA-QC

CA

H8S4B7

Add to calendar

March 7 2017


13:30
Le chant de l'alouette - NEW
Église Saint-Joseph
Rivière-des-Prairies (Quebec)
La semaine de la musique 2017 | 6 to 12 years old | Français


13:30 - Le chant de l'alouette - NEW

Le chant de l'alouetteThe songs and melodies that underscored family life in early New France.Four artists transport you to Canada's pioneer days through the songs and tunes that underscored family life in early New France. These are the songs..

http://data.jmcanada.ca/images/concerts/filename/2016/05/09/135546_le_chant_de_l-alouette_rgbweb-72dpi_700pix.jpg

Église Saint-Joseph

10 050, boul. Gouin Est

Rivière-des-Prairies

,

CA-QC

CA

H1C1A8

Add to calendar

March 7 2017


13:30
The Great Rhythmobile Adventure
Centre culturel Stewart Hall
Pointe-Claire (Quebec)
La semaine de la musique 2017 | 6 to 12 years old | Français


13:30 - The Great Rhythmobile Adventure

La Rythmobile, bolide hybride tout-terrain surpuissant, est malencontreusement tombée en panne sèche. Le malhabile pilote Pataquès et son patenteux mécanicien Patatras ont dû se ranger en catastrophe sur...

http://data.jmcanada.ca/images/concerts/filename/2014/04/21/163325_expeditionrythmobile_rgb300dpi.jpg

Centre culturel Stewart Hall

176, chemin du Bord-du-Lac-Lakeshore

Pointe-Claire

,

CA-QC

CA

H9S4J7

Add to calendar

March 7 2017


14:00
Head in the Clouds
Centre Henri-Lemieux
LaSalle (Quebec)
La semaine de la musique 2017 | 3 to 7 years old | Français


14:00 - Head in the Clouds

Even though everybody is always saying that she has her head in the clouds, Annabelle never believed it. But the one day, when she is just walking along to school, listening to the birds, wings suddenly growing out of her back!In two flaps of her new...

http://data.jmcanada.ca/images/concerts/filename/2015/02/06/115421_latetedanslesnuages_rgb300dpi.jpg

Centre Henri-Lemieux

7644, rue Édouard

LaSalle

,

CA-QC

CA

H8P1T3

Add to calendar

March 7 2017


14:00
Mozart's Flights of Fancy
Centre culturel de Verdun
Verdun (Quebec)
La semaine de la musique 2017 | 6 to 12 years old | Français


14:00 - Mozart's Flights of Fancy

Mozart's Flight of Fancy. Immersed in the world of the child prodigy Wolfgang Amadeus Mozart, children will discover his infinite sources of inspiration. One afternoon Mozart and his big sister, Maria Anna, find themselves home alone for an hour of free..

http://data.jmcanada.ca/images/concerts/filename/2014/04/21/162247_mozart_rgb72dpi.jpg

Centre culturel de Verdun

5955, rue Bannantyne

Verdun

,

CA-QC

CA

H4H1H6

Add to calendar

March 8 2017


10:30
Peter and the Wolf
Centre culturel de Notre-Dame-de-Grâce
Montréal (Quebec)
La semaine de la musique 2017 | 3 to 5 years old | Français


10:30 - Peter and the Wolf

Aux sons des trompettes, du cor, du trombone et du tuba prennent vie le courageux  Pierre, Hubert le grand-père, Carlos le chat, Édouard le canard, Julie la pie et le fameux  méchant loup. En forêt, au rythme des...

http://data.jmcanada.ca/images/concerts/filename/2014/04/21/145348_pierreloup2015_300dpirgb_2700x2700.jpg

Centre culturel de Notre-Dame-de-Grâce

6400, avenue Monkland

Montréal

,

CA-QC

CA

H4B1H3

Add to calendar

March 8 2017


13:30
Le chant de l'alouette - NEW
Maison de la culture Frontenac
Montréal (Quebec)
La semaine de la musique 2017 | 6 to 12 years old | Français


13:30 - Le chant de l'alouette - NEW

Le chant de l'alouetteThe songs and melodies that underscored family life in early New France.Four artists transport you to Canada's pioneer days through the songs and tunes that underscored family life in early New France. These are the songs..

http://data.jmcanada.ca/images/concerts/filename/2016/05/09/135546_le_chant_de_l-alouette_rgbweb-72dpi_700pix.jpg

Maison de la culture Frontenac

2550, rue Ontario Est

Montréal

,

CA-QC

CA

H2K1W7

Add to calendar

March 8 2017


14:00
Recorders on the Run
Maison de la culture Marie-Uguay
Montréal (Quebec)
La semaine de la musique 2017 | 6 to 12 years old | Français


14:00 - Recorders on the Run

Recorders on the RUNFor the music Olympics, these four virtuosos train day and night to develop the nimblest fingers, the strongest embouchures and the finest ears in the world. Prepare yourself for an exciting, athletic performance with Flûte Alors!...

http://data.jmcanada.ca/images/concerts/filename/2014/04/21/164028_illustr-flutesalors_300dpirgb_2700x2700.jpg

Maison de la culture Marie-Uguay

6052, boul. Monk

Montréal

,

CA-QC

CA

H4E3H6

Add to calendar

March 8 2017


14:00
Harpmania - NEW
Salle Mirella et Lino Saputo
Saint-Léonard (Quebec)
La semaine de la musique 2017 | 6 to 12 years old | Français


14:00 - Harpmania - NEW

HarpmaniaIn this animated concert featuring a diverse repertoire of mu-sical styles ranging from traditional to current, Annabelle Renzo passionately presents a varied assortment of harps and harp relatives. Making use of an ancient lyre, a grand...

http://data.jmcanada.ca/images/concerts/filename/2016/05/09/132710_harpemania_rgb72dpiweb_700x700pix.jpg

Salle Mirella et Lino Saputo

8350-8370, boul. Lacordaire

Saint-Léonard

,

CA-QC

CA

H1R3Y6

Add to calendar

March 8 2017


14:00
Peter and the Wolf
Centre culturel de Notre-Dame-de-Grâce
Montréal (Quebec)
La semaine de la musique 2017 | 6 to 12 years old | Français


14:00 - Peter and the Wolf

Aux sons des trompettes, du cor, du trombone et du tuba prennent vie le courageux  Pierre, Hubert le grand-père, Carlos le chat, Édouard le canard, Julie la pie et le fameux  méchant loup. En forêt, au rythme des...

http://data.jmcanada.ca/images/concerts/filename/2014/04/21/145348_pierreloup2015_300dpirgb_2700x2700.jpg

Centre culturel de Notre-Dame-de-Grâce

6400, avenue Monkland

Montréal

,

CA-QC

CA

H4B1H3

Add to calendar

March 9 2017


10:30
Stradivarius' Secret
Maison de la culture de Côte-des-Neiges
Montréal (Quebec)
La semaine de la musique 2017 | 3 to 6 years old | Français


10:30 - Stradivarius' Secret

Le luthier italien Antonio Stradivari, surnommé Stradivarius, est un génie de la  fabrication des violons et des violoncelles. Mais quel est donc le secret de la confection  de ses instruments de musique exceptionnels? C'est.

http://data.jmcanada.ca/images/concerts/filename/2014/04/21/153828_puces-stradivarius.jpg

Maison de la culture de Côte-des-Neiges

5290, chemin de la Côte-des-Neiges

Montréal

,

CA-QC

CA

H3T1Y2

Add to calendar

March 9 2017


14:00
Les 7 trompettes de Fred Piston
Centre communautaire Elgar
Île-des-Soeurs (Quebec)
La semaine de la musique 2017 | 6 to 12 years old | Français


14:00 - Les 7 trompettes de Fred Piston

Le jeune et sympathique Fred Piston, docteur en trompette et assistant du célèbre  Professeur Trompettito, s'amène avec ses 7 trompettes et vous invite à une éclatante  démonstration musicale et...

http://data.jmcanada.ca/images/concerts/filename/2014/04/21/162905_fredpiston_300dpi_web.gif

Centre communautaire Elgar

260, Elgar

Île-des-Soeurs

,

CA-QC

CA

H3E1C9

Add to calendar

March 9 2017


14:00
Le chant de l'alouette - NEW
Maison de la culture Rosemont-La Petite-Patrie
Montréal (Quebec)
La semaine de la musique 2017 | 6 to 12 years old | Français


14:00 - Le chant de l'alouette - NEW

Le chant de l'alouetteThe songs and melodies that underscored family life in early New France.Four artists transport you to Canada's pioneer days through the songs and tunes that underscored family life in early New France. These are the songs..

http://data.jmcanada.ca/images/concerts/filename/2016/05/09/135546_le_chant_de_l-alouette_rgbweb-72dpi_700pix.jpg

Maison de la culture Rosemont-La Petite-Patrie

6707, avenue de Lorimier

Montréal

,

CA-QC

CA

H2G2P8

Add to calendar

March 10 2017


11:00
The Story of Babar
Complexe sportif de Kirkland
Kirkland (Quebec)
La semaine de la musique 2017 | 3 to 7 years old | Français


11:00 - The Story of Babar

Faites découvrir aux petits la célèbre histoire du roi Babar, brillamment mise en musique  par un des plus grands compositeurs français, Francis Poulenc. Une pièce à la fois  touchante, amusante et...

http://data.jmcanada.ca/images/concerts/filename/2014/04/21/162012_babar2016_rgbweb-72dpi_700x700.jpg

Complexe sportif de Kirkland

16 950, boul. Hymus

Kirkland

,

CA-QC

CA

H9G3Y8

Add to calendar

March 10 2017


13:30
Rhythm and Stomp
Maison de la culture Ahuntsic-Cartierville
Montréal (Quebec)
La semaine de la musique 2017 | 6 to 12 years old | Français


13:30 - Rhythm and Stomp

Une histoire percutante que celle des percussions! Tout commence en Afrique, terre du  rythme, où les instruments résonnent et les musiques se répondent. Ce concert animé  présente, en deux sons trois...

http://data.jmcanada.ca/images/concerts/filename/2014/04/21/194050_rythmo-synchro.jpg

Maison de la culture Ahuntsic-Cartierville

10300, rue Lajeunesse, 1er étage

Montréal

,

CA-QC

CA

H3L2E5

Add to calendar

March 10 2017


19:00
Le chant de l'alouette - NEW
Théâtre Beaubois
Montréal (Quebec)
La semaine de la musique 2017 | 6 to 12 years old | Français


19:00 - Le chant de l'alouette - NEW

Le chant de l'alouetteThe songs and melodies that underscored family life in early New France.Four artists transport you to Canada's pioneer days through the songs and tunes that underscored family life in early New France. These are the songs..

http://data.jmcanada.ca/images/concerts/filename/2016/05/09/135546_le_chant_de_l-alouette_rgbweb-72dpi_700pix.jpg

Théâtre Beaubois

4901, rue du Collège Beaubois

Montréal

,

CA-QC

CA

H8Y3T4

Add to calendar

March 11 2017


11:00
La marmite ensorcelée
Centre communautaire Anjou
Anjou (Quebec)
La semaine de la musique 2017 | 3 to 5 years old | Français


11:00 - La marmite ensorcelée

Le luthier italien Antonio Stradivari, surnommé Stradivarius, est un génie de la  fabrication des violons et des violoncelles. Mais quel est donc le secret de la confection  de ses instruments de musique exceptionnels? C'est.

http://data.jmcanada.ca/images/concerts/filename/2014/04/21/153616_marmite-ensorcelee.jpg

Centre communautaire Anjou

7800, Boul. Métropolitain Est

Anjou

,

CA-QC

CA

H1K1A1

Add to calendar

March 11 2017


14:00
Harpmania - NEW
Maison culturelle et communautaire de Montréal-Nord
Montréal-Nord (Quebec)
La semaine de la musique 2017 | 6 to 12 years old | Français


14:00 - Harpmania - NEW

HarpmaniaIn this animated concert featuring a diverse repertoire of mu-sical styles ranging from traditional to current, Annabelle Renzo passionately presents a varied assortment of harps and harp relatives. Making use of an ancient lyre, a grand...

http://data.jmcanada.ca/images/concerts/filename/2016/05/09/132710_harpemania_rgb72dpiweb_700x700pix.jpg

Maison culturelle et communautaire de Montréal-Nord

12 004, boul. Rolland

Montréal-Nord

,

CA-QC

CA

H1W3W1

Add to calendar

March 11 2017


14:00
Le chant de l'alouette - NEW
Maison de la culture du Plateau-Mont-Royal
Montréal (Quebec)
La semaine de la musique 2017 | 6 to 12 years old | Français


14:00 - Le chant de l'alouette - NEW

Le chant de l'alouetteThe songs and melodies that underscored family life in early New France.Four artists transport you to Canada's pioneer days through the songs and tunes that underscored family life in early New France. These are the songs..

http://data.jmcanada.ca/images/concerts/filename/2016/05/09/135546_le_chant_de_l-alouette_rgbweb-72dpi_700pix.jpg

Maison de la culture du Plateau-Mont-Royal

465, avenue du Mont-Royal Est

Montréal

,

CA-QC

CA

H2J1W3

Add to calendar

March 12 2017


15:00
Le chant de l'alouette - NEW
Auditorium Le Prévost
Montréal (Quebec)
La semaine de la musique 2017 | 3 to 12 years old | Français


15:00 - Le chant de l'alouette - NEW

Le chant de l'alouetteThe songs and melodies that underscored family life in early New France.Four artists transport you to Canada's pioneer days through the songs and tunes that underscored family life in early New France. These are the songs..

http://data.jmcanada.ca/images/concerts/filename/2016/05/09/135546_le_chant_de_l-alouette_rgbweb-72dpi_700pix.jpg

Auditorium Le Prévost

7355, avenue Christophe-Colomb

Montréal

,

CA-QC

CA

H2R2S5

Add to calendar
Workshops
Date
Infos

March 4 2017


15:00
Trumpet
Maison de la culture Mercier
Montréal (Quebec)
La semaine de la musique 2017 | 6 to 12 years old | Français


15:00 - Trumpet

Qu'est-ce qu'une anche? À quoi servent les clés ? Et le baril ? Dans cet atelier, les enfants apprennent l'anatomie et l'histoire de la clarinette en la fabriquant du bec au pavillon !  Offert dans

http://data.jmcanada.ca/images/workshops/filename/2014/04/21/144935_trompette-1.jpg

Maison de la culture Mercier

8105, rue Hochelaga

Montréal

,

CA-QC

CA

H1L2K9

Add to calendar

March 5 2017


12:45
Body Beats
Maison de la culture Pointe-aux-Trembles
Montréal (Quebec)
La semaine de la musique 2017 | 6 to 12 years old | Français


12:45 - Body Beats

The whole body is a musical instrument. Through the sheer pleasure of movement, children will discover the rich wolrd of body percussion and the various musical styles associated with it. Their introduction to flamenco, Irish dancing, beat boc and gumboot

http://data.jmcanada.ca/images/workshops/filename/2014/04/25/162523_musique-corps.jpg

Maison de la culture Pointe-aux-Trembles

14001 Notre-Dame Est

Montréal

,

CA-QC

CA

H1A1T9

Add to calendar

March 5 2017


15:00
Body Beats
Maison de la culture Pointe-aux-Trembles
Montréal (Quebec)
La semaine de la musique 2017 | 6 to 12 years old | Français


15:00 - Body Beats

The whole body is a musical instrument. Through the sheer pleasure of movement, children will discover the rich wolrd of body percussion and the various musical styles associated with it. Their introduction to flamenco, Irish dancing, beat boc and gumboot

http://data.jmcanada.ca/images/workshops/filename/2014/04/25/162523_musique-corps.jpg

Maison de la culture Pointe-aux-Trembles

14001 Notre-Dame Est

Montréal

,

CA-QC

CA

H1A1T9

Add to calendar

March 6 2017


10:30
Your Story set to Music
Centre de Ressources Communautaires Côte-Des-Neiges
Montréal (Quebec)
La semaine de la musique 2017 | 3 to 6 years old | Français


10:30 - Your Story set to Music

Participez à la création d'un conte sonorisé et découvrez comment la musique traduit vos  émotions, vos idées et vos sensations. Les enfants découvrent d'abord un conte musical  du...

http://data.jmcanada.ca/images/workshops/filename/2014/04/21/093139_ton-histoire-en-musique.jpg

Centre de Ressources Communautaires Côte-Des-Neiges

6767, Chemin de la Côte-des-Neiges

Montréal

,

CA-QC

CA

H3S2T6

Add to calendar

March 6 2017


13:30
Your Story set to Music
Centre de Ressources Communautaires Côte-Des-Neiges
Montréal (Quebec)
La semaine de la musique 2017 | 7 to 12 years old | Français


13:30 - Your Story set to Music

Participez à la création d'un conte sonorisé et découvrez comment la musique traduit vos  émotions, vos idées et vos sensations. Les enfants découvrent d'abord un conte musical  du...

http://data.jmcanada.ca/images/workshops/filename/2014/04/21/093139_ton-histoire-en-musique.jpg

Centre de Ressources Communautaires Côte-Des-Neiges

6767, Chemin de la Côte-des-Neiges

Montréal

,

CA-QC

CA

H3S2T6

Add to calendar

March 7 2017


10:00
Violin (7-12 years old)
Centre communautaire de l'Est
Pierrefonds (Quebec)
La semaine de la musique 2017 | 6 to 12 years old | Français


10:00 - Violin (7-12 years old)

Cet atelier transporte les enfants dans l'univers du luthier et leur permet de démystifier le processus de fabrication du violon. Volute, ouïe et chevalet n'auront plus de secrets pour eux…  Offert dans..

http://data.jmcanada.ca/images/workshops/filename/2014/04/21/145130_violon-photo.jpg

Centre communautaire de l'Est

9665, boulevard Gouin Ouest

Pierrefonds

,

CA-QC

CA

H8Y1R4

Add to calendar

March 7 2017


10:30
Violin (7-12 years old)
Maison de la culture Maisonneuve
Montréal (Quebec)
La semaine de la musique 2017 | 7 to 12 years old | Français


10:30 - Violin (7-12 years old)

Cet atelier transporte les enfants dans l'univers du luthier et leur permet de démystifier le processus de fabrication du violon. Volute, ouïe et chevalet n'auront plus de secrets pour eux…  Offert dans..

http://data.jmcanada.ca/images/workshops/filename/2014/04/21/145130_violon-photo.jpg

Maison de la culture Maisonneuve

4200, rue Ontario Est

Montréal

,

CA-QC

CA

H1V1K1

Add to calendar

March 8 2017


10:00
Body Beats
Centre communautaire de l'Est
Pierrefonds (Quebec)
La semaine de la musique 2017 | 6 to 12 years old | English


10:00 - Body Beats

The whole body is a musical instrument. Through the sheer pleasure of movement, children will discover the rich wolrd of body percussion and the various musical styles associated with it. Their introduction to flamenco, Irish dancing, beat boc and gumboot

http://data.jmcanada.ca/images/workshops/filename/2014/04/25/162523_musique-corps.jpg

Centre communautaire de l'Est

9665, boulevard Gouin Ouest

Pierrefonds

,

CA-QC

CA

H8Y1R4

Add to calendar

March 9 2017


10:30
Violin (7-12 years old)
Bibliothèque publique de Dollard-des-Ormeaux
Dollard-des-Ormeaux (Quebec)
La semaine de la musique 2017 | 7 to 12 years old | Français


10:30 - Violin (7-12 years old)

Cet atelier transporte les enfants dans l'univers du luthier et leur permet de démystifier le processus de fabrication du violon. Volute, ouïe et chevalet n'auront plus de secrets pour eux…  Offert dans..

http://data.jmcanada.ca/images/workshops/filename/2014/04/21/145130_violon-photo.jpg

Bibliothèque publique de Dollard-des-Ormeaux

12 001, boul. de Salaberry

Dollard-des-Ormeaux

,

CA-QC

CA

H9B2A7

Add to calendar

March 9 2017


13:00
Clarinet (3-12 years old)
Bibliothèque publique de Dollard-des-Ormeaux
Dollard-des-Ormeaux (Quebec)
La semaine de la musique 2017 | 7 to 12 years old | Français


13:00 - Clarinet (3-12 years old)

Qu'est-ce qu'une anche? À quoi servent les clés ? Et le baril ? Dans cet atelier, les enfants apprennent l'anatomie et l'histoire de la clarinette en la fabriquant du bec au pavillon !  Offert dans

http://data.jmcanada.ca/images/workshops/filename/2014/04/21/143842_clarinette-original.jpg

Bibliothèque publique de Dollard-des-Ormeaux

12 001, boul. de Salaberry

Dollard-des-Ormeaux

,

CA-QC

CA

H9B2A7

Add to calendar

March 9 2017


13:30
The Time Traveller's Ball
Centre communautaire de l'Est
Pierrefonds (Quebec)
La semaine de la musique 2017 | 6 to 12 years old | Français


13:30 - The Time Traveller's Ball

In this workshop, children travel through history, one dance step at a time! From a British monarch's courtyard to a modern dance studio, children will explore different musical styles, and learn about physical expression through contemporary dance...

http://data.jmcanada.ca/images/workshops/filename/2016/05/13/163822_bal-a-voyager-dans-le-temps.jpg

Centre communautaire de l'Est

9665, boulevard Gouin Ouest

Pierrefonds

,

CA-QC

CA

H8Y1R4

Add to calendar

March 9 2017


13:30
The Time Traveller's Ball
Centre communautaire de l'Est
Pierrefonds (Quebec)
La semaine de la musique 2017 | 6 to 12 years old | English


13:30 - The Time Traveller's Ball

In this workshop, children travel through history, one dance step at a time! From a British monarch's courtyard to a modern dance studio, children will explore different musical styles, and learn about physical expression through contemporary dance...

http://data.jmcanada.ca/images/workshops/filename/2016/05/13/163822_bal-a-voyager-dans-le-temps.jpg

Centre communautaire de l'Est

9665, boulevard Gouin Ouest

Pierrefonds

,

CA-QC

CA

H8Y1R4

Add to calendar

March 10 2017


10:30
Metallophone (3-8 years old)
Centre de Ressources Communautaires Côte-Des-Neiges
Montréal (Quebec)
La semaine de la musique 2017 | 3 to 6 years old | Français


10:30 - Metallophone (3-8 years old)

Dans un esprit de découverte, les enfants explorent et expérimentent le métallophone, instrument de percussion mélodique. Ils sont également appelés à associer les notes...

http://data.jmcanada.ca/images/workshops/filename/2014/04/21/160846_metallophone.jpg

Centre de Ressources Communautaires Côte-Des-Neiges

6767, Chemin de la Côte-des-Neiges

Montréal

,

CA-QC

CA

H3S2T6

Add to calendar

March 10 2017


14:00
The Traditional Ball
Bibliothèque de Saint-Léonard
Saint-Léonard (Quebec)
La semaine de la musique 2017 | 6 to 12 years old | Français


14:00 - The Traditional Ball

Let the sounds of folk music usher you into the ballroom, where you'll discover Irish jigs, Quebecois foot-tapping and Circassian Circles. Their boisterous and traditional rallying rhythms will make just about anyone want to get "jiggy"!

http://data.jmcanada.ca/images/workshops/filename/2016/05/13/163847_bal-trad.jpg

Bibliothèque de Saint-Léonard

8420, boulevard Lacordaire

Saint-Léonard

,

CA-QC

CA

H1R3G5

Add to calendar

March 11 2017


10:30
Body Beats
Centre de Ressources Communautaires Côte-Des-Neiges
Montréal (Quebec)
La semaine de la musique 2017 | 3 to 6 years old | Français


10:30 - Body Beats

The whole body is a musical instrument. Through the sheer pleasure of movement, children will discover the rich wolrd of body percussion and the various musical styles associated with it. Their introduction to flamenco, Irish dancing, beat boc and gumboot

http://data.jmcanada.ca/images/workshops/filename/2014/04/25/162523_musique-corps.jpg

Centre de Ressources Communautaires Côte-Des-Neiges

6767, Chemin de la Côte-des-Neiges

Montréal

,

CA-QC

CA

H3S2T6

Add to calendar
La semaine de la musique 2017
MARCH 4th TO MARCH 12th

,

2017

More than 55 concerts and workshops for young audiences in the Greater Montreal

Presented in collaboration with réseau Accès culture Montreal