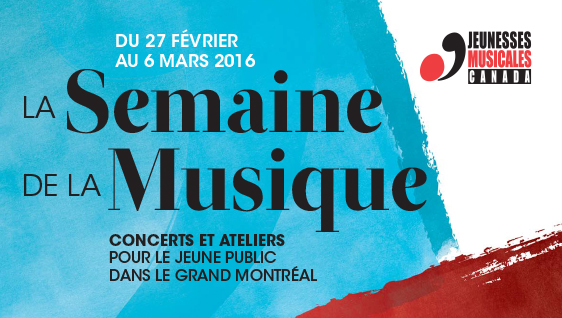 The Jeunesses Musicales Canada is pleased to offer numerous musical activities in and around Montreal during La Semaine de la musique, from February 27 to March 6, 2016.
To participate, just ask your passes directly at the venues.
Most activities are free !
More information about the concerts and workshops can be found at the bottom of this page and in our dedicated brochure.
JMC's Jammies Jam is on Saturday, February 27 !
Join us after bedtime and dance around in your pajamas! It's a fun musical evening for children ages 3 to 12: rhythm-based games, body percussion, and traditional, modern, futurist and full-on wacky dance moves. Snacks and refreshments will be offered. Bring your smile and your slippers! Free Entry

Concerts
Date
Infos
No dates availables
Workshops
Date
Infos
No dates availables
La semaine de la musique JMC
FEBRUARY 27 TO MARCH 6

,

2016

Concerts and worshops for young audience in Greater Montreal

Presented in collaboration with réseau Accès culture Montreal