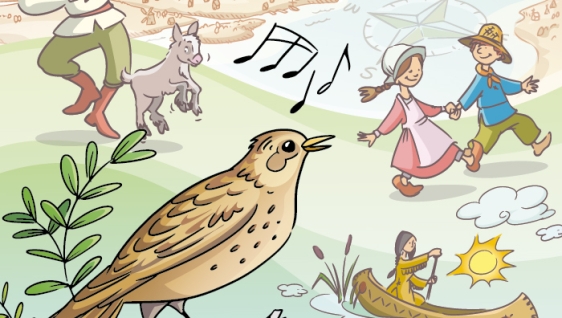 Watch the video
Le chant de l'alouette
Discover the songs and melodies of New France !
Four artists transport you to Canada's pioneer days through the songs and tunes that underscored family life in early New France. These are the songs and melodies of our great-grandparents, sung and played for their children and passed down through generations, to be shared as a special piece of heritage.
Target Audience : 3 to 5 years old / 6 to 10 years old
Concert Length :
35 minutes /
55 minutes
Maximum Audience : 250 people
Language: French
Concert dates
Date
Infos
No dates availables
Le chant de l'alouette
Nominated at the 22nd Opus Awards in the Production of the Year - Young Audiences category.
A JMC co-production with L'Atelier du conte en musique et en images
ARTISTS
Philippe Gélinas, violin, mandolin, zither, dulcimer, hurdy gurdy and voice
Lise Roy, narration and voice
Laurence Beaudry, violin, viola, mandolin and voice
Chantal Simard or Léo Guiollot, percussion and voice
TEXT
Philippe Gélinas
STAGE DIRECTION AND TEXT ADVISER
Véronique Marcotte
VISUAL ELEMENTS
François Beauchemin, crankie
Maude Laterreur, watercolours
I'm interested in this concert